Jeannie Ichimura '85
Artist & Educator, Clay Wrangler Studio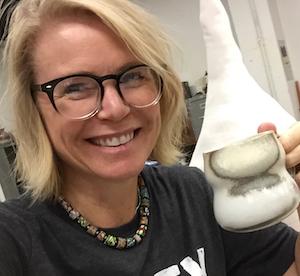 Jeannie was introduced to what would become a lifelong interest in ceramics while teaching English in Japan more than twenty-five years ago, but her career path has not always included clay. Over the years she's taught English in Japan, quit nursing school, lived and traveled abroad with her husband, and raised two girls while juggling a twelve-year career in the pharmaceutical industry. During this time her clay hobby gradually morphed into a side hustle, and in 2013 she left the corporate world and never looked back
She currently divides her time between teaching ceramics at San Francisco State University and working in her studio. Her most recent artworks are inspired by observations of others and her own life experiences, examining ideals about femininity and socially awkward situations, often with a touch of humor.
Jeannie received her MFA from San Francisco State University and a B.A. in Art and Humanities from Stephens College. Her work has been exhibited in CA, NY, MI, and OH. She and her husband live in San Francisco with a Boston Terrier named Kermit. Their daughters are both in college.