Amanda (Black) Zollo '05
Infantry Officer (US Army), Police Records Supervisor (Albuquerque Police Department)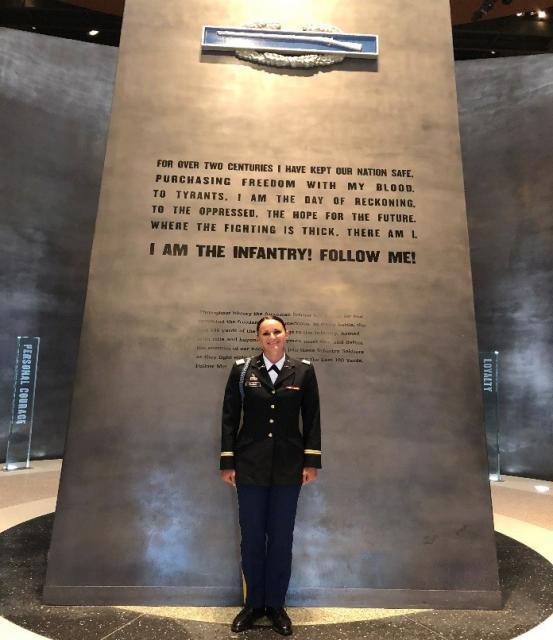 1LT Amanda Black joined the New Mexico Army National Guard in 2017. She signed her initial contract using the "Basic to BOLC" program. She received her commission through the Officer Candidate School (OCS) at Fort Benning, Georgia after completing Basic Combat Training at Fort Jackson, South Carolina.

1LT Black earned her Bachelor's Degree in Communication Studies and Minor in Psychology from the University of New Mexico. She also earned her Associates Degree in Sociology from Sacramento City College. She was accepted into the University of New Mexico's Organization, Information and Learning Science's Program for her Graduate Degree.

After earning her commission from OCS, 1LT Black went on to the Infantry Basic Officer Leaders Course (IBOLC) at Fort Benning, Georgia to earn her Blue Cord and become MOS qualified as an Infantry Officer. 1LT Black turned blue in 2018 and became New Mexico's first female Infantry Officer.

1LT Black served as Platoon Leader for 2nd Platoon in Bravo Company, 1-200th IN. She deployed with Bravo Company as a Platoon Leader to Djibouti, Africa in support of Operation Enduring Freedom-HOA. 1LT Black is currently the Executive Officer of the 1-200th IN Higher Headquarters Company.

1LT Black helps with various Recruiting and Retention activities throughout the State by speaking at local high schools about the benefits of joining the Guard, specifically motivating young women to join. 1LT Black also held a guest speaker slot at the Basic Leaders Course in Santa Fe, NM through the Regional Training Institute. She volunteers her time to both of these activities to give back to the local Community and form bonds with other leadership throughout the Army. 1LT Black's efforts were recognized when she was invited to speak at the National Guard Women's Leadership Panel in August 2019.

Outside the Guard, 1LT Black works for the Albuquerque Police Department as a Records Supervisor in the Telephone Reporting Unit to assist in Call for Service diversion and handles various types of reports regarding crimes. She started her career in Law Enforcement in 2009. When she isn't working or volunteering, 1LT Black is spending time with her loved ones or running local mountain trails.