2015 Track and Field Highlights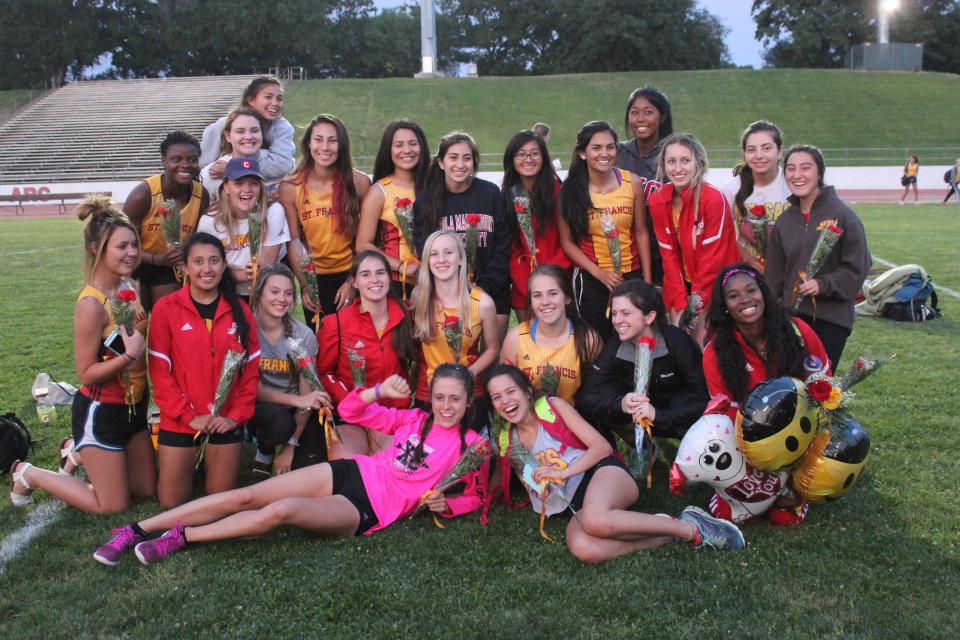 Delta League and Sac-Joaquin Section Champions
St. Francis had two qualifiers to the CIF Track and Field Championships in three events. Senior Peyton Bilo (1600, 3200) was a double qualifier, while Arndt advanced in the 800 meters for the second consecutive season. The Troubadours posted Top-20 finishes in all three events: Bilo was 12th in the 3200 and 14th I the 1600, while Arndt finished 16th in the 800m.
St. Francis won the Sac-Joaquin Section title for the second consecutive season and seventh time in school history. The Troubadours are the first Division I team to win three consecutive titles since West HS won three straight from 2003-05.
The Troubadours were the co-champions in the final Delta League standings, the 18th league title in school history. St. Francis advanced 15 varsity athletes into the Sac-Joaquin Section trials out of the league meet and won five individual events.
The Troubadours broke five school records during the season.
The 15-year old 400-meter school record held by Chloe Jarvis (2000) was broke twice at the Sac-Joaquin Section meet. Sydney Hunter posted a 55.88 in the trials and Ariane Arndt came back to win the finals in 55.35.
Arndt won the Arcadia Invitational title with a school-record 2:10.05.
CIF State Championship Qualifiers (2 Athletes, 3 Events)
Ariane Arndt, 800m – 16th, 2:11.06
Peyton Bilo, 1600m – 14th, 4:56.46
Peyton Bilo, 3200m – 12th, 10:31.67
Masters Champions
Sac-Joaquin Section Champions
Ariane Arndt (400m, 800m)
All-Delta League Selections
Ariane Arndt (400m, 800m, 4×400m)
Lillian Enes (4×400m)
Elizabeth Hennessy (4×400)
Sydney Hunter (4×400)
Samantha Ruggles (Shot Put)
Nicole Spring (Long Jump)
School Records
Ariane Arndt (400m, 55.35, Sac-Joaquin Section Finals)
Ariane Arndt (800m, 2:10.35, Arcadia Invitational)
Peyton Bilo (One Mile, 5:02.21, Stanford Invitational, 1600m, 4:37.00, Meet of Champions)
Nicole Spring (Triple Jump, 36-11.75, Delta League Championships)