2015 Water Polo Highlights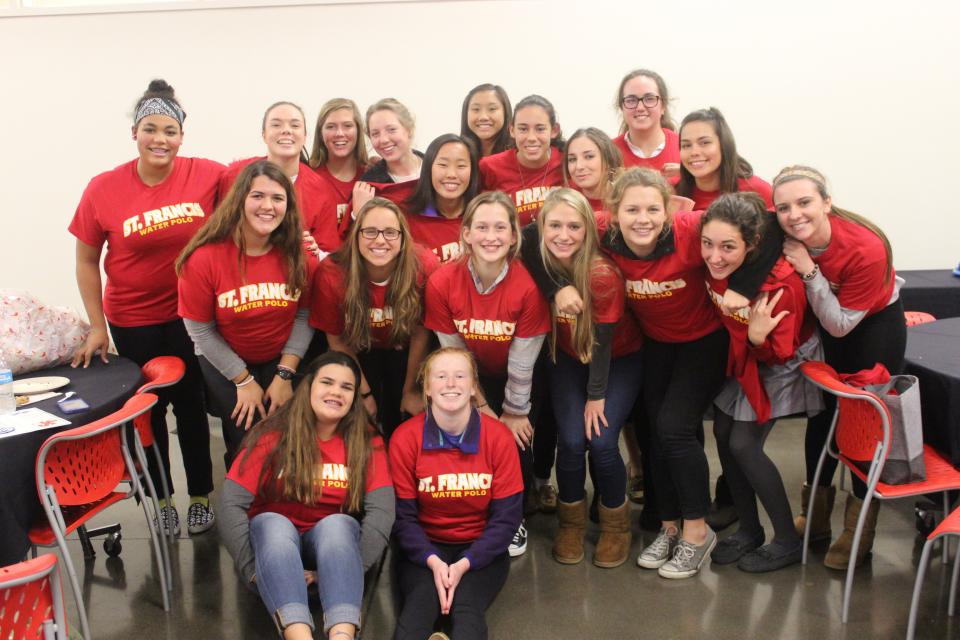 St. Francis went 18-7 on the season with a 2-1 mark in Delta League play.
Junior Sally Ferguson scored two times in the fourth period to help St. Francis to a 6-5 victory over Davis to the win the Sac-Joaquin Section Division I Championship. It was the fourth section title in water polo for St. Francis in school history and first since 2008.
The St. Francis water polo team was well represented on the Sac-Joaquin Section teams selected by the area coaches, earning three first-team members and three second-team choices, Overall, the Troubadours had eight student-athletes earn all-section accolades. Seniors Jennalyn Barthels, Maggie Oys and Ally Tambornini were each named to the Sac-Joaquin Section first team, while Barthels and Oys earned consideration for All-America team consideration.
Eight players earned All-Delta League status, including Barthels, Oys and Julie Zanobini on the first team. Tambornini, Sam Reinl, Caroline Urkov and Kira Chavez were second-team selections, while Sally Ferguson received the Delta League Sportsmanship Award.
Eight current and former St. Francis water polo players earned Academic All-America honors from USA Water Polo. Seniors Aubree Barr, Maggie Oys, Elle Minor and Aly Tamborini garnered Academic All-America honors with outstanding achievement designation for qualifying with a 4.0 GPA or better for the second consecutive season. Caroline Urkov and Julie Zanobini as well as former Troubie Lauren Charter.
Senior Ally Tambornini is among the six athletes featured in the Faces in the Crowd segment of this week's edition of Sports Illustrated. Cleveland Cavaliers star Lebron James is on the cover of the December 7, 2015 edition.
Three players signed to play water polo in college including Oys at Santa Clara, Zanobini at Loyola Marymount and Barthels at Cal-State Northridge.
Individual Honors
CIF Sac-Joaquin All-Section Teams
First Team
Jennalyn Barthels, St. Francis
Maggie Oys, St. Francis
Ally Tambornini, St. Francis
Second Team
Julie Zanobini, St. Francis
Sam Reinl, St. Francis
Elle Minor, St. Francis
Honorable Mention
Kira Chavez, St. Francis
Caroline Urkov, St. Francis
All-Delta League First Team
Jennalyn Barthels
Maggie Oys
Julie Zanobini
All-Delta League Second Team
Ally Tambornini
Sam Reinl
Caroline Urkov
Kira Chavez
Honorable Mention
Elle Minor
Sally Ferguson (Sportsmanship)
USA Water Polo Academic All-American
Aubree Barr
Maggie Oys
Elle Minor
Aly Tambornini
Caroline Urkov
Julie Zanobini
Sports Illustrated Faces in the Crowd
SportsStars Athlete of the Week
Maggie Oys (GameON!)
Elle Minor (December 25, 2015)
Varsity Awards
Player of the Year – Maggie Oys
Offensive Player – Jennalyn Barthels
Defensive Player – Alyssa Tambornini
Most Inspirational – Samantha Reinl
Most Improved – Elizabeth Minor
The Junior Varsity Awards
Player of the Year – Natalie Imboden
Offensive Player – Emily Lavezzo
Defensive Player -Malia Arnott
Most Inspirational – Charisma Powning
Most Improved – Maddie Lima