2016 Lacrosse Highlights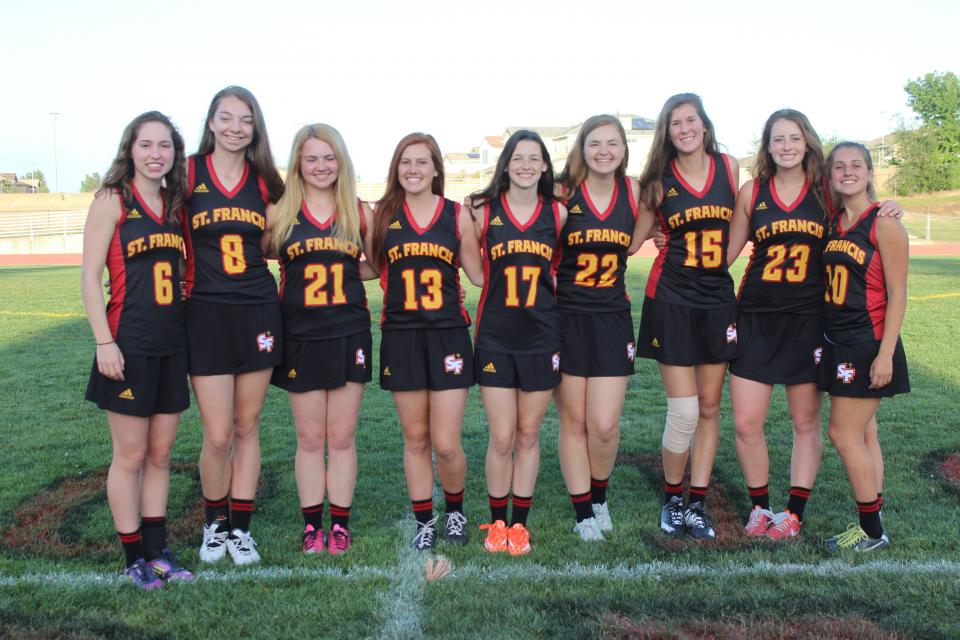 St. Francis went 8-10 on the season under Co-Head Coaches Spenser Ruvalcaba and Julia Southard. The Troubadours lost to Oak Ridge in the semifinals of the Sacramento Valley Lacrosse League playoffs.
St. Francis placed six players on the Sacramento Valley Lacrosse Conference All-League team, including first-team selection Sarah Westover as selected by the league coaches. Senior Maggie Anderson was a second team selection.
Senior Kelly Chavez, freshman Jade Borg and senior Meg Anderson were honorable mention selections.
Westover led the team in scoring with 45 and was named the team's offensive most valuable player. She added nine assists while recording 45 percent on her draw controls. Anderson was second on the team with 26 goals with seven assists and 26 ground balls.
Chavez was named the team's defensive most valuable player with a team-best 39 ground balls.
The Troubies defeated Christian Brothers 10-9 in Holy Stix in overtime.
St. Francis had nine seniors who were part of the program in 2016.
Maggie Anderson signed to play lacrosse at Walsh University.
Sacramento Valley Lacrosse Conference
Sarah Westover (First Team)
Maggie Anderson (Second Team)
Kelly Chavez (Honorable Mention)
Jade Borg (Honorable Mention)
Meg Anderson (Honorable Mention)
Maggie Anderson (Sportsmanship Award)
Varsity Team Awards
Most Valuable Player – Sarah Westover
Defensive Most Valuable Player – Kelly Chavez
Most Improved – Avery Myers
Varsity Leadership Award – Erika Palmer
Junior Varsity Team Awards
Most Improved Player – Nandi Woodfork-Bey
Troubie Award – Molly Pirnik
Hardest Hustler Award – Anna Kenyon
Bloody Knuckles Award – Jocelyn Coleman