2016 Softball Highlights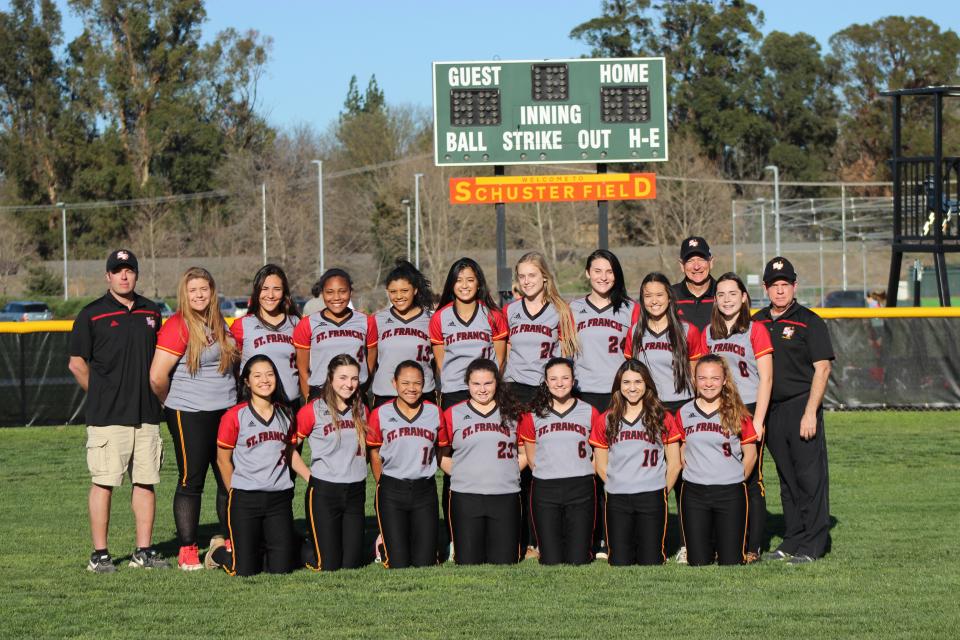 The St. Francis softball team went 14-12-1 overall and 9-5 in the Delta League to finish third overall in the standings.
The Troubadours advanced to the Sac-Joaquin Section Division II playoffs as the No. 12 seed. St. Francis won an elimination game over No. 5 Vintage 5-2 before losses to No. 4 Del Campo (6-0) and No. 9 Elk Grove (10-2).
Seniors Mel Baccay and Shelby Tevis were named to the Sacramento Bee All-Metro second team. Baccay led all regulars with a .437 average, the eighth-best in the Delta League, with a team-best 38 hits, 29 runs (5th-best in the league) and five triples. Tevis hit .378 with a team-best eight doubles and 19 RBI.
Senior Hanna Willover was named to the All-Metro honorable mention team after hitting .338 with 10 runs scored and nine RBI.
Junior Jada Kanemasu led the team with eight wins, posting an 8-2 record over 17 appearances with a 3.25 ERA.
Five seniors graduated from the program, including Emily Ainsley, Baccay, Moses, Tevis and Willover.
Two players signed to play softball in college, including Mel Baccay (Michigan State) and Shelby Tevis (La Verne).
Sacramento Bee All-Metro Selections
Mel Baccay (Second Team)
Shelby Tevis (Second Team)
Hannah Willover (Honorable Mention)
All-Delta League Selections
Mel Baccay
Shelby Tevis
Hannah Willover
Optimist All-Star Game Participants