2017 Softball Highlights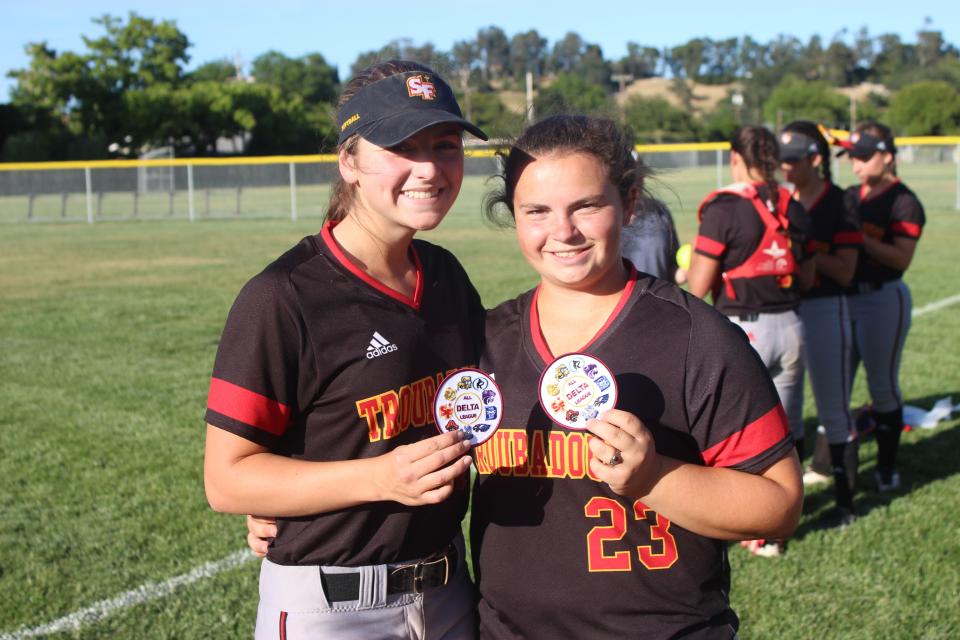 The St. Francis softball team went 14-14 overall and 7-7 in the Delta League to finish fifth overall in the standings.
The Troubadours advanced to the Sac-Joaquin Section Division II playoffs as the No. 13 seed. St. Francis lost to No. 3 Vacaville 13-3 in the opening round.
Lauren Washburn hit a team-best .519 during her senior season over 26 games with 16 runs scored with 28 RBI. She was third overall in the league in hitting, earning Delta League first-team honors.
Sophomore Chloe Smith was also named to the All-Delta League team, hitting .448 with a team-best four triples and three home runs.
Sophomore Catie Caldwell led the team with eight wins in the circle with a 4.17 ERA over 20 appearances.
Softball seniors Lauren Washburn and Rhyann O'Mara were both selected to the Optimist All-Star game and River Cats All-City team. O'Mara hit at a .423 clip for her senior season with 17 RBI.
Junior Kennedy Hornbuckle received the Delta League Sportsmanship Award. She hit .321 with eight RBI and one home run in her first varsity season.
Four seniors graduated from the program, including Ari Avila, Jada Kanemasu, O'Mara and Washburn, who will continue her career in college at St. Anselm (N.H.).
All-Delta League Selections
Lauren Washburn
Chloe Smith
Kennedy Hornbuckle (Sportsmanship)
Optimist All-Star Game Participants
Lauren Washburn
Rhyann O'Mara
River Cats All-City
Lauren Washburn
Rhyann O'Mara