Former Troubadour Balbierz Leads Cal Poly into the Big West Tournament This Week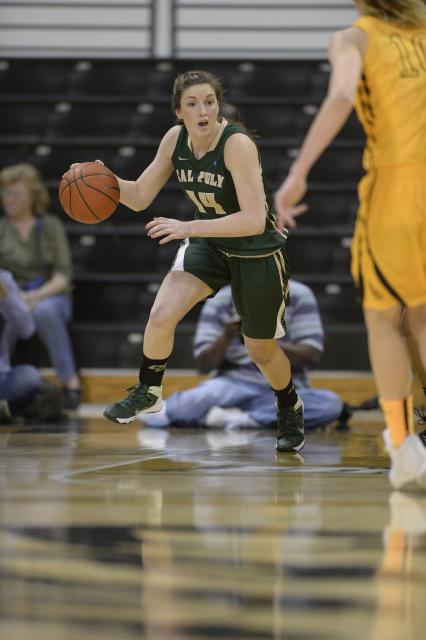 SAN LUIS OBISPO, Calif. – Cal Poly sophomore Beth Balbierz will play in the Big West Tournament starting Friday in Anaheim.
She has been a key contributor for the Mustangs this season, playing in all 29 games and making one start in the season finale this past weekend. She is coming off the best game of her college career last weekend.
She scored a career-high 17 points, 15 coming in the second half and six in overtime to lift the Mustangs as she hit five of eight three pointers. Three of her bombs helped to erase a 10 point deficit (64-54) with 11:06 left in regulation in wthe in over UC Irvine.
"My role on the team is as a shooter," said Balbierz earlier this year before playing a conference game against UC Davis. "This year I stepped more into a defensive role as well. Last year, I went in the game, shot a couple shots and if I made them, I played a little more. If I missed I might be done for that day. This year I have developed my role more on the team. I am able to contribute on both sides of the floor."
Cal Poly closed the season Saturday with a win over UC Santa Barbara, earning a No. 2 seed in the Big West Tournament and bye into the semifinals Friday. Cal-State Northridge is the No. 1 seed.
"League has been good and the competition all around has been better than it has been," said Balbierz during her visit. "We have been able to outperform our competition."
It has been a special season for the former Troubadour. After sitting out her freshmen season, she stuck to her school of choice despite having a scholarship offer taken away after her commitment to the school.
"I was just going to school," said Balbierz. I figured since I did not get a scholarship it was not meant to be and maybe I was supposed to just go to school to go to school. I took a year off and played a lot in the rec center at Cal Poly. It was fun but there was a certain part of the competition I still missed."
She walked on to the team in the spring of freshmen season and has since earned a scholarship.
"I am really happy with my choice but I am really glad I took a year off," said Balbierz. "It gave me some perspective about the game as a whole. It is really just a game and there are bigger things in life than basketball. Overall, my whole experience worked out for the best."
In addition to her big game against UC Irvine, she has scored in double figures in three other games this season, while shooting better than 33 percent beyond the arc. She has averaged 4.9 points per game.
Another former Troubie Brianna Charles helped UNLV win their Mountain West Conference opener Monday night. She scored eight points off the bench against San Jose State to advance to the Mountain West Quarterfinals.