Cross Country Wins Subsection Meet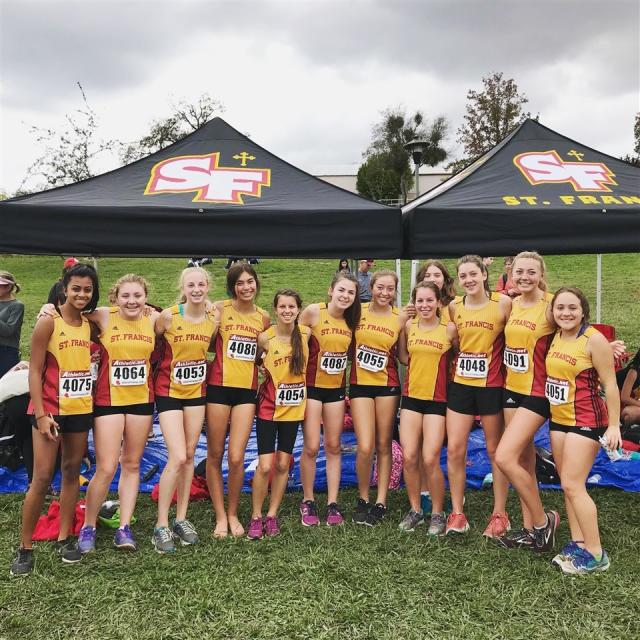 FROGTOWN, Calif. – The St. Francis varsity cross country team won the Sac-Joaquin Subsection meet with 72 points to edge Vacaville with a pair of top-10 finishes.
Senior Sydney Vandegrift was fourth overall in 18:28 with junior teammate Sophie DeBenedetti in fifth in 18:47. Sophomore Haley Silva (20th) was the third finisher in 19:26 just ahead of senior Alana Reyna (21st) in 19:28. Hanna Hekkenan crossed fifth in 22nd place in 19:32. Sophomore Emma Hollenbach was 29th overall in 19:52 and Erica Cradeur was seventh on the team in 33rd place in 20:03.
The JV team was third overall led by the third-place finish of Grace Rogers and fifth-place finish of Teresa Lee. The Frosh/Soph team was second overall with all five SF runners among the top 25.
St. Francis will defend its Sac-Joaquin Section title on Friday, Nov. 10 at Willow Hills Reservoir.
Sac-Joaquin Subsection Girls Results
Varsity Results
1. St. Francis 72; 2. Vacaville 79; 3. Rocklin 86; 4. Ponderosa 135; 5. Downey 178.
Individual St. Francis Results
4. Sydney Vandegrift 18:28.5
5. Sophie Debenedetti 18:47.5
20. Haley Silva 19:26.8
21. Alana Reyna 19:28.2
22. Hanna Hekkanen 19:32.6
29. Emma Hollenbach 19:52.5
33. Erica Cradeur 20:03.7