Leah Pezzetti Horner '13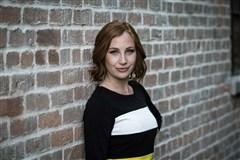 Leah is a reporter and weekend weather anchor at KERO, the local ABC affiliate, in Bakersfield, California. She graduated early from Cal Poly San Luis Obispo with a B.S. in Broadcast Journalism and immediately started at 23ABC. In college, she won many prestigious journalism scholarships and awards, including two Sacramento Press Club scholarships, the Outstanding Senior Award in her graduating class and a National Press Photographers Association (NPPA) scholarship to attend their workshop. She also was in an a cappella group in college that led her to sing with Jason Mraz during his tour, compete in the Los Angeles A Cappella Festival and record two albums that are on Itunes.
In high school, Leah was cast in six main stage productions. She won an Elly Award for Best Supporting Actress as her role as Rachel Lynde in Anne of Green Gables and was nominated for Best Leading Actress for her role as the Baker's Wife in Into the Woods. She was part of St. Francis' Chamber Choir beginning her sophomore year, was in the first ever show choir group, joined Dance Company and acted with the SF Players. She graduated from St. Francis with the Outstanding Senior in the Arts award.