Dads' Club
Dads' Club is committed to serving St. Francis High School by helping Dads and their Daughters develop positive, engaging and lifelong Father-Daughter relationships. Every Dad is a member of the Dads' Club Community, and participating is a wonderful way to make a real difference in the lives our daughters. To learn more about Dad's Club, please review our Backgrounder and FAQ documents. We sincerely hope that you will consider becoming an active part of our community.
View/Download DADS' CLUB BACKGROUNDER
View/Download DADS' CLUB FAQ
Contact
If you have any questions about Dad's Club, please contact us via email: dadsclub@stfrancishs.org
Core Values
Faith, Hope & Love
Lifelong, Loving, Father-Daughter Relationships
Servant Leadership
Service
Charity
Fun
Our Mission
Our mission is to create a vibrant, compelling and enduring service club organization, that creates and nurtures lifelong relationships, that benefit the Greater St. Francis High School Community NLT June 30, 2022.
Key Initiatives
Dads' Club Meetings & Events
Dads & Daughters Events
Dads' Club Volunteer Service
Dads & Daughters Community Service Project
Advancement Partnership
Life Skills Program
Leadership Development Program
Dads' Club Prayer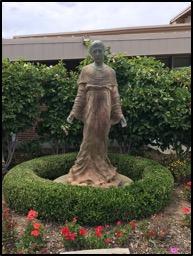 Our Father, who art in heaven, hollowed be thy name. We are Fathers of our daughters attending St Francis Catholic High School. We gather today as The Dads' Club. We ask for your blessings and wisdom to make us the best Dads we can be. We also ask that you bless the Dads' Club and all its members; so that we may achieve our goals of enhancing our relationship with our daughters. Please bless all our Father/Daughter events of fun; events of service to the Saint Francis community; and all the events of Spirituality. Only through your grace do we exist as Fathers, and only through your grace can we be great Fathers. We humbly request your grace and blessings in the name of your son, Jesus Christ. Amen.
St. Francis of Assisi. Pray for us!
St. Clare of Assisi. Pray for us!