Our Campus
Established as a school for young women in 1940, St. Francis High School encourages the education of the whole person by providing high academic standards, a Christian environment for spiritual development, a full range of athletics, fine and performing arts, numerous on-campus clubs, and a variety of social activities.
Since 1940, St. Francis High School has been more than an outstanding educational institution for young women. St. Francis continues to be a living, growing community of faith, excellence, leadership and service. As a Catholic school, St. Francis High School embraces the teachings and traditions of the Roman Catholic Church. While serving the Catholic families of the diocese of Sacramento, St. Francis also welcomes individuals of other faiths, recognizing the unique gifts they bring to the greater community.
Early History of St. Francis High School
In the fall of 1940, St. Francis Elementary School at 2500 K Street extended its educational program to include its first ninth-grade class. Twelve young women thus became the first class to attend St. Francis High School. After spending two years at St. Francis, the class was transferred to St. Joseph's School, a three-story structure then located at 8th and I Streets. The young women who began their freshman year in 1941 became the first graduating class of St. Francis High School in the spring of 1945.
Taught by the St. Francis Sisters of Penance and Christian Charity, the original St. Francis High School students recall the occasional lay faculty member who provided instruction in such curriculum basics as sewing (hand stitching, since no sewing machines were available) and the proper way to sit as a lady. Typing was introduced during the sophomore year by Sr. Geraldine and Sr. Peter, who also directed the annual play.
Increased enrollment caused a need for more high schools, and in 1956 newly erected Bishop Armstrong became the school for the juniors and seniors from St. Francis, St. Joseph, and Christian Brothers High Schools. Each school maintained its own ninth and tenth grades. Bishop Armstrong was considered a co-institutional facility; the faculty consisted of Christian Brothers, Sisters of Mercy, the Sisters of St. Francis, diocesan clergy, and dedicated lay men and women.
This arrangement lasted until 1964, when the Christian Brothers purchased Bishop Armstrong to create a four-year boys' high school. The girls attending Bishop Armstrong transferred to the present site of St. Francis High School on Elvas Avenue with an enrollment of 520 students in the tenth, eleventh and twelfth grades. The ninth-graders remained at the K Street site for one more year.
In 1975 the Sisters of Notre Dame and the Franciscan Sisters were no longer able to staff the school, and Bishop Alden J. Bell appointed the Sisters of the Apostles of the Sacred Heart of Jesus, who served until 1999.
In 2001, St. Francis High School adopted the President-Principal model of governance. Bishop William K. Weigand appointed Marion L. Bishop as the first president of the school. During her tenure at St. Francis, the school experienced an increase in enrollment from eight hundred students to over eleven hundred. She oversaw an extensive campus expansion and construction of beautiful new facilities, a photovoltaic installation, and implementation of the Kairos retreat program. Upon Marion's retirement in 2012, Bishop Jaime Soto appointed Margo Reid Brown '81 to succeed her as president. Margo served as President for 4 years, and in 2016 Theresa Rodgers, former Principal, assumed role of President through 2021. In the summer of 2022, Fadia Desmond, Ph.D., former Assistant Principal at St. Francis from 2015-2018 became president.
St. Francis Garden
An Article by Adan Romo on the creation of the St. Francis Garden:
"I recall the meeting many years ago where the possibility of creating a garden on the St. Francis campus was first discussed. Director of Finance Sharon Tobar, Plant Manager Larry Carson, School Board member and local farmer Craig McNamara and I began to strategize a garden that could be wholly integrated into the school's curriculum, culture, and food program. Here students could learn the essentials of organic gardening.
In many ways our vision for the garden grew as organically as the garden we hoped to create. Starting with the large unused patch of earth sandwiched between the classrooms and M street, we began to envision a space that not only nurtured plants, but also our spirits. Excitement for the project spread through the larger St. Francis community and we received not only words of encouragement, but also offers to donate time and resources. Through a gift from the class of 2010, a large cast iron fountain will serve as a focal point in the center of the garden. A generous donation from the St. Francis Filipino Families and Friends provided 14 sculpted reliefs from Italy that depict the Way of the Cross. These stations will be integrated into the garden in a way that will encourage students to read and reflect on the last days of Christ's life. From Skip Mezger, a UC Davis Senior Landscape Architect and father of alumnae Kelly '03, Kristen '06, and Tracy '10, we received not only ten trellised olive trees, but a wealth of expert advice on plant selection, design, and how to go about planning such a large garden. Transforming our vision into a reality has certainly been a community endeavor. Once the garden is completed, it will take an even larger community effort – from students and faculty to administrators and parents – to make Canticle Garden flourish.
It is my hope that the garden provides students – and all of us in the St. Francis community – with the excitement, exploration, and reflection of discovery. Ultimately, our goal is to create a space on campus where students can get a sense of ownership and accomplishment through their involvement in all aspects of the garden. They will prepare beds, plant seeds and seedlings, tend crops, turn compost, harvest produce and, of course, enjoy the "fruits" of their labor. Over time, Canticle Garden has the potential to foster a deeper appreciation of how the natural world sustains us and promotes the environmental and social well-being of our community. Being connected to the rhythms of tending the earth is an essential part of being human, reminding us of the constant individual and institutional renewal to which we are called".
Adan Romo teaches sculpture and is chairperson of the Visual Arts Department at St. Francis High School. He created the statues of St. Francis of Assisi and St. Clare that adorn the St. Francis campus.
Campus Modernization and Enhancements
In 2004, the first phase of campus renovation and expansion was completed, resulting in several new campus facilities. The Fine and Performing Arts Complex includes space for visual art, music, dance, and drama classes and a 500-seat theater. The Library Resource Center serves as the information hub of the campus, offering an integrated approach to research, study, and technology experience. The new gymnasium contains a fitness center and practice facilities for three volleyball teams or two basketball teams. With bleacher seating for 1,200, it serves as a venue for athletic competition as well as liturgies, rallies, and special events. This phase of modernization also included four new science classrooms.
The former gymnasium was remodeled for dual purposes: a suite of offices, currently used by the Guidance and Counseling Department, and storage and workshop space for the Maintenance Department. The former library, converted into a Campus-Life Center, was renovated in 2008 and houses the Campus Ministry, Christian Service and Student Activities offices. With its great-room design and comfortable, modular seating, the "CLC" also serves as a gathering space for student government, clubs, and general socialization.
St. Francis High School completed construction of a new Dining Hall in 2014 and is modernizing areas of campus to meet the needs of our growing student body. The beautiful and functional structures on the St. Francis campus serve as the framework in which the school's mission continues and young women enjoy an educational experience that is uniquely "St. Francis."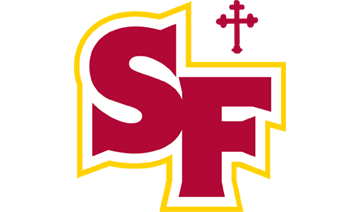 SACRAMENTO, Calif. – September 29, 2022 - St. Francis Catholic High School is excited to share that plans for our new aquatic complex are moving forward. The application for the Project was submitted to the City of Sacramento last week, Thursday, September 22, 2022.