Graduation Information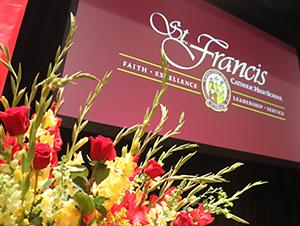 We will update this page with Class of 2023 Graduation Information as we know more. We ask that families check their email regularly, as that will be our first method of communicating updates with you. Parents, If you need to update your information, please do so here.
Baccalaureate & Graduation Events Timeline
Baccalaureate Practice
Tuesday, May 16, 2023 (Time: TBD)
Location: St. Francis Gym
*Graduation Tickets to be passed out at the end of the practice. ONLY Students can pick up tickets.
Senior Sunset
Tuesday, May 16, 2023 (7:00pm)
Location: St. Francis Soccer Field
Baccalaureate Mass
Wednesday, May 17, 2023 (5:30 pm)
Location: St. Francis Gym
Preludes to the Mass: Seniors performing musical pieces (4:45pm)
Graduation Practice
Thursday, May 18, 2023 (Time: TBD)
Graduation Ceremony
Thursday, May 18, 2023 (3:00pm)
Location: Memorial Auditorium
Disneyland Safe and Sober Grad Night 2023
Details TBD