St. Francis Honored with the AP Access Award 2023
Research shows students who take AP courses and exams are more likely to attend college and graduate on time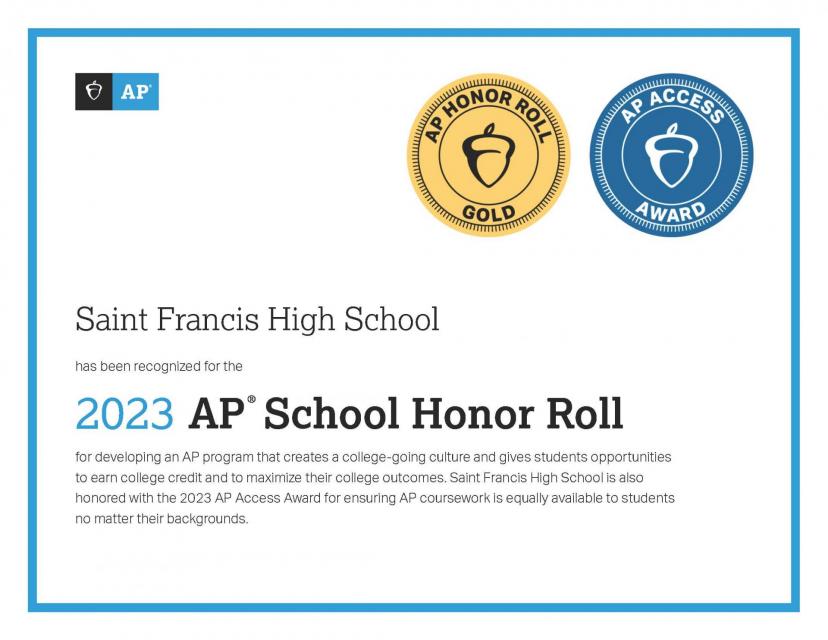 SACRAMENTO, Calif., – St. Francis Catholic High School has been named to the 2023 AP School Honor Roll, Gold distinction, which recognizes schools whose Advanced Placement programs are delivering results and broadening access for students. St. Francis was just two percentage points shy of achieving Platinum status.
Schools can earn the honors annually based on their ability to increase the college-going culture, provide opportunities for students to earn college credit, and maximize college readiness. The AP School Honor Roll offers four levels of distinction: Bronze, Silver, Gold, and Platinum.
St. Francis was also recognized with the 2023 AP Access Award for providing all students the chance to participate in Advanced Placement classes, including students of underrepresented populations. Read the College Board Congratulatory Letter 2023.
St. Francis currently offers nearly three dozen honors and AP classes as well as advanced STEM electives and visual and performing arts and is looking to expand these offerings. Students can also take college courses offered through American River College right on campus, earning college credit through dual enrollment.