Southern Italy – Summer 2018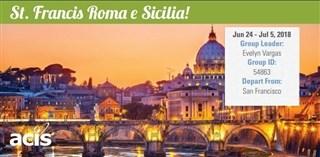 The Modern and Classical Language Department is sponsoring a Summer Trip to Southern Italy in June of 2018.
This educational trip will provide travelers with a cultural, artistic and linguistic immersion when visiting Rome and traveling throughout Sicily with overnights stays in the cities of Taormina, Syracuse, Agrigento and Palermo. The travel route includes visiting sites and monuments of Classical Rome, a day visit to Vatican City, which will include a Papal Audience. In Sicily, we will enjoy spending time in the Greek Amphitheater near Taormina and ascending to Mount Etna. Other highlights of this trip include visits to the cathedral of Piazza Armerina, the Valley of the Temples, the Palatine Chapel of the Norman Palace in Palermo. Also, visits to monuments and sites in Selinunte, Monreale, Cefalu, Segesta, Erice and more.
If you have questions, please contact:
Sra. Evelyn Vargas: evargas@stfrancishs.org
Signora RM Bertini: rbertini@stfrancishs.org ​