Revelry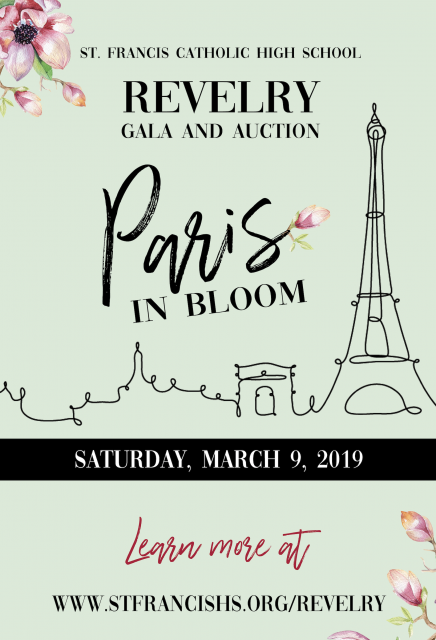 Now in its 13th year, St. Francis' major school-wide fundraiser — Revelry Gala & Auction — will be held on Saturday, March 09, 2019 and is typically attended by more than 500 supporters. It is a delightful evening that brings the school community together and offers a robust silent auction, live student entertainment, delicious food and drinks and a rousing live auction.
The funds raised at Revelry are an essential part of the annual budget and allow for important school operations such as scholarships, facility improvements, technology enhancements, spiritual enrichment, academic excellence, performing arts and athletic and opportunities.
All parents are asked to support this event with their time, talent and treasure. Alumnae, parents of alumnae and other community members are also encouraged to participate by sponsoring, providing auction items and attending the event.
Individual tickets are $125 with tables seating 10. Sponsorships start at $1,500.
Sponsorship
There are a variety of high-visibility sponsorship opportunities for our generous benefactors. You can sponsor a Revelry as a single event, or we offer a package sponsorship including Crab Feed benefits. Learn more about Sponsorship benefits here. To discuss sponsorship opportunities available or customize a package, contact Mari Parisi at mparisi@stfrancishs.org.
Evening Program
Evening Program will be available soon
Mobile Bidding
We will be using Gesture Mobile Bidding again this year at Revelry. With mobile bidding, you can bid from a smartphone, tablet, or computer and everything is in real time! You do not need to be present at Revelry to bid on our fabulous Silent Auction items. A special bonus is that you are able to register prior to the night, peruse our Silent Auction items, and start bidding early! To bid on some of our amazing Live Auction items, you still need to be present at Revelry.
You can pre-register to bid on gesture. Link will be available at a later date.
(when available)The above link will allow access our items at any time leading up to, during, or after the event. Bidding will close at 7:30pm on Saturday, March 9.
The silent auction will be conducted entirely online through Gesture mobile bidding. You do not need to be present at the event to bid on items in the Silent Auction. If you are attending Revelry, please fully charge your mobile device!
Dinner Menu
Check back in January 2019.
Master of Ceremonies & Auctioneer
Master of Ceremony
Check back in January 2019.
Jake Parnell, Auctioneer
Returning again as Auctioneer extraordinaire is Jake Parnell. His energetic approach is always engaging and entertaining. One of Jake's true passions is working with and raising money for organizations locally and nationwide. His current list of auction clients includes St. Francis Catholic High School, the Napa Valley Grape Growers, the Tiger Woods Foundation, Crocker Art Museum, Country Day School, Christian Brothers High School, the American Cancer Society, the March of Dimes and many more.
Growing up in a family of auctioneers, Jake followed his grandfather and father's lead and attended the World Champion School of Auctioneering in 2001 while still at Cal Poly. Jake lives in Sacramento, with his wife, Molly, and their three children Jack (3) and twins Parker and Ben (2).