Revelry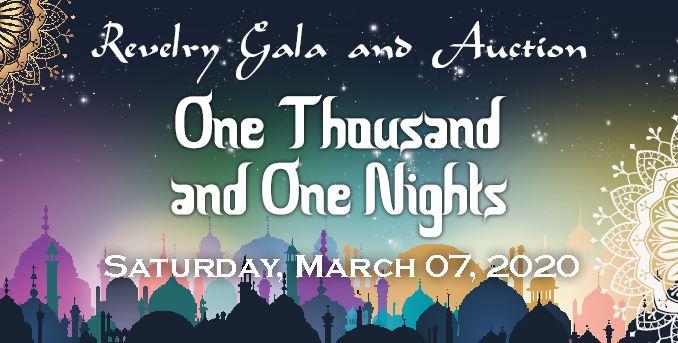 This year we are hosting the 14th annual Revelry Gala and Auction, "One Thousand and One Nights." This event is an opportunity to build community with all facets of the St. Francis community, while fundraising for the school. The event starts with a cocktail hour and silent auction. Next, we move to dinner and a live auction which includes our Fund-A-Vision. We end the evening with an after party, dancing and dessert. We hope you will join us for this wonderful event!
Questions? Please contact Linda Brida, Special Events Associate, at (916)737-5015 or LBrida@stfrancishs.org
Individual tickets are $125, with tables seating 10.
Sponsorship start at $1,500.
Hosted Bar. Adult-Only Event
Purchase Tickets or Sponsorship HERE
*Seating Preference: please be sure to indicate who you would like to be seated with, we will do our best to accommodate all seating requests. Enter in the "special request" field of the form, under each ticket details. For help see here*​
Sponsorship Opportunities
There are a variety of high-visibility sponsorship opportunities for our generous benefactors. You can sponsor a Revelry as a single event, or we offer a package sponsorship including Crab Feed benefits. Learn more about Sponsorship benefits here. To discuss sponsorship opportunities available or customize a package, contact Linda Brida at Lbrida@stfrancishs.org
All Revelry Sponsors and underwriters will receive an invitation to the Sponsors' Reception. Event to be held on Friday, February 21, 2020 at the home of Ashley Andrews '98 & Dr. Todd Andrews.
Meet our Co-Chairs, Kristin & Lisa!
Our 2019 Revelry Gala & Auction co-chairs, Kristin Stassi Venegas '83 (mother of Juliana '20) and Lisa Breslau (mother of Sophia '20 and Sara '21), are returning to make One Thousand and One Nights come to life for Revelry 2020. With these wonderful ladies on our side, this is sure to be an unforgettable evening!
This event is a great opportunity to support the future: Investing in our young women today guarantees leaders who will change the world tomorrow. Our entire team has put their heart and soul into creating an evening of merriment for you. If you would like to join a table of fellow Troubie fans, contact Linda Brida at LBrida@stfrancishs.org
Revelry 2020 Event Details
Evening program, Menu, Emcee & Auctioneer
Mass – 5:00pm
Check-In & Silent Auction – 5:30pm
Dinner & Student Entertainment – 7:00pm
Live Auction & Raffle – 8:00pm
Libations & Dancing – 9:00pm
---
Evening Menu
Appetizers
Tandoori Free Range Chicken Kabobs with Yogurt Mint Sauce
Mediterranean Antipasto Skewers with Fire Roasted Tomatoes, Kalamata Olives, Fresh Mozzarella Balls and Marinated Artichoke Hearts
Applewood Bacon-wrapped Dates
Dried Fig and Apricot Crostinis with Goat Cheese and Balsamic Drizzle
Salad
Moroccan-style Salad with Chickpeas, Cherry Tomatoes, Persian Cucumbers, Pickled Red Onions, Dates, Organic Radicchio, Fresh Mint, Feta Cheese with Spiced Lemon Vinaigrette
Entrees [choice of 1]
Baharat Marinated Steak with Toasted Israeli Couscous with Apricot and Laura Chenel Goat Cheese, Cumin and Cinnamon Roasted Toybox Carrots, and Tri Colored Cauliflower
Stuffed Moroccan Bastilla with Organic Eggplant, Chickpeas, Almonds, Bell Peppers, Onions and Golden Raisins with Roasted Red Harissa Sauce
Dessert
Traditional Middle Eastern Sweets
---
Meet the Emcee & Auctioneer
2020 Details Coming
Mobile Bidding
2020 Details Coming. Pre-Register Online Here
Fund-A-Vision & Spirit of San Damiano Award
For the benefit of all current and future St. Francis Troubadours, and to honor Monsignor Kidder, this year's Fund-a-Vision supports an effort that is near and dear to Monsignor's heart: ensuring a St. Francis education is accessible to all who desire a Catholic education based on faith, excellence, leadership and service.
Need-based tuition assistance perpetuates our distinguished history of providing support for students from middle and lower-income families. As Monisgnor Kidder models, a St. Francis education is too important and too valuable not to be accessible to all who desire it.
Giving to this year's Fund-a-Vision means you are empowering the next generation of smart leaders, creative thinkers and global citizens. Every gift has a direct impact on our students, empowering them with the tools they need to become the leaders and givers of tomorrow. On behalf of today's 1,080 Troubies and yesterday's 11,000-plus alumnae, help us continue the legacy of St. Francis. Learn more and support here
Spirit of San Damiano Award 2020
Monsignor James Kidder
Shannon & Randy Terwedo
Read about our 2020 Spirit of San Damiano Award Recipients Here
Revelry 2019 Recap
Paris in Bloom Transformed our Campus and Hearts
As we start to catch our breath after our 13th Annual Revelry Gala & Auction, Paris in Bloom, we find ourselves missing the excitement, beauty and magic of a spectacular evening. It is no wonder Revelry is the school's premier event!
Our guests grabbed their passports and packed their bags as they were transported to a Parisian neighborhood complete with cobbled passages, quintessential Parisian shops and tree-lined avenues. Wherever you looked, Paris was truly in Bloom (with a few raindrops to help it along)!
The ambiance and magic of the evening was a result of the vision and leadership of our two amazing Revelry co-chairs, Lisa Breslau (Sophia '20 and Sara '21) and Kristin Stassi Venegas '83 (Juliana '20). They led an executive team comprised of both long-serving and new members who headed up the many areas that needed to come together for a great event. We can't thank this team enough for the heart, soul and hard work they put into making this event so very engaging and successful. Thank you to the hundreds of parent volunteers who supported this team and helped make the magic happen. Nothing on campus would happen without the teamwork of our dedicated Faculty and Staff, from advancement, to facilities, arts, finance and all of our departments were all-in to raise support for our Troubies.
Guests were welcomed by St. Francis student ambassadors, entertained by our Show Choir and SF Players, who appeared as Mimes and French ladies, before Miss Clavel and her little girls in two straight lines led them through the Arc de Triomphe to see a beautiful dining room laid out for them, complete with an Eiffel Tower. And instead of dining and dashing, many stayed late to enjoy our soirée post-fête with libations and dancing! It was a perfect end to an amazing evening.
Two remarkable women were honored with the Spirit of San Damiano award—St. Francis's first President, Marion Bishop, and alumna from the class of 1948, Marion Slakey. Both women received standing ovations recognizing their love, loyalty and service to St. Francis and our Troubadours.
The 2019 Revelry Fund-A-Vision raised a substantial amount for the St. Francis Endowed Scholarship fund. With the generous support of a $30,000 lead donor, nearly $100,000 was raised in the room and then generously matched by an attendee. The success of this year's fund-a-vision helps us fulfill our mission by providing the financial assistance that ensures a St. Francis education is accessible to all who desire a holistic education based on faith, excellence, leadership and service.
Because of the generosity and support of more than 450 Revelry guests and supporters, we raised more than $500,000 for today's and tomorrow's Troubies. Thank you to the entire St. Francis community for giving so generously.