Revelry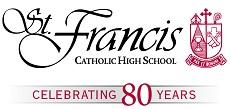 Celebrate St. Francis' 80th Anniversary by joining us for a very special Revelry event. This virtual event will include a premium auction featuring a robust silent auction, wine & spirits section, sign up parties, and "live auction" items. There is no need to purchase a ticket so you'll have some "fun" money to spend on fabulous items and experiences. Join us, or better yet, set up your own watch party with a group you are comfortable with! You don't want to miss an opportunity to celebrate this special anniversary year!
This virtual event is scheduled for Saturday, April 24, 2021, at 7 PM. The live, virtual event will run until 8 PM. Our auctions will open on Saturday, April 17, 2021, at 8 AM and close on Saturday, April 24, 2021, at 9 PM.
Revelry is the primary fundraiser for tuition assistance and student activities at St. Francis
To register for our live virtual event, click here.
To peruse and shop our auctions beginning, Saturday, April 17th, please click here.
Questions? Please contact Natalie Anzini, at nanzini@stfrancishs.org or at 916-737-5015
Revelry 2021 Event Details & Registration
Evening program will include memorable moments from SFHS, a robust silent and premium auction, and a special message from our President, Theresa Rogers. Virtual Program begins at 7:00 PM. Registration is FREE!
Sponsorship Opportunities
Sponsorship is the wings that make our events soar, and we are incredibly grateful for the support of our loyal and dedicated sponsors. You make a difference for our Troubies!
There are a variety of high-visibility sponsorship opportunities from $2,500 to $25,000 for our generous benefactors. Learn more about Sponsorship benefits here. To discuss sponsorship opportunities available or customize a package, contact Natalie Anzini.
Click HERE to purchase an 80th Anniversary Sponsorship.
Underwriting Opportunites
We have several underwriting opportunities available for you to demonstrate your support for St. Francis Catholic High School's upcoming virtual Revelry auction. The items below are desired items for this year's virtual event. Each underwriter will receive prominent recognition. Please click HERE to underwrite an item.
For questions please contact Natalie Anzini at 916-737-5015 or email at nanzini@stfrancishs.org.
Fund-A-Vision
For 80 years, St. Francis Catholic High School has graduated women who have changed the world! 11,090 of them in fact. There is a reason we are the third largest Catholic girls school in the country, and the last remaining Catholic girls school in Sacramento.
Help us continue this rich legacy by continuing to make a St. Francis education possible and affordable for all young women who desire an outstanding education based on faith, excellence, leadership and service. Giving to this anniversary year's Fund-a-Vision will do just that.
Auction Donors
St Francis is genuinely grateful for the support and spirit of community from these small businesses for our upcoming event season. Please consider supporting these businesses since they have so generously supported St. Francis during this unprecedented time.