Spirit of San Damiano Awards
Monsignor James Kidder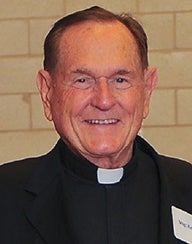 This beloved gentleman needs no introduction to the St. Francis community. Early in his pastoral career, while serving as Assistant to the Bishop of the Sacramento Diocese, Monsignor James Kidder served as Chaplain at St. Francis High School. While he served the Bishop in many capacities (Master of Ceremonies, Founding Director of Vocations Office, Marriage preparation director, founder of Permanent Diaconate, etc.), our alumnae community most cherished his role as chaplain. He still holds his "celebrity" status whenever he is spotted on campus or at a reunion. He was also a friend and mentor to many of his St. Francis colleagues including Kai Parks, Rick Norman and Trisha Uhrhammer among others. Monsignor Kidder continued to serve St. Francis on our Board of Directors from playing an instrumental role in the campaign to expand the campus. Monsignor Kidder was also the founding Pastor of Holy Trinity Parish in El Dorado Hills where he served from 1992 until his retirement in 2017.
Monsignor returned again to St. Francis last year to serve on the Strategic Visioning Team. A true servant leader, Monsignor Kidder was presented with the Pax et Bonum award from SFHS President Marion Bishop in 2004 and was one of seven priests honored nationwide when he received the distinguished pastor award from the National Catholic Educational Association in 2014. He has truly earned the love, respect and friendship of the St. Francis community.
Shannon & Randy Terwedo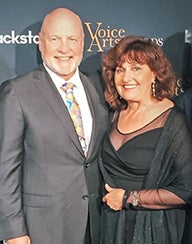 The St. Francis community is blessed to have this power couple providing vision, leadership and service to our school. Shannon and Randy jumped right in in 2003 when their daughter Jillian enrolled as a freshman. They were active members of the Patrons' of the Arts providing service and raising support for the various arts programs at St. Francis. When the school leadership came up with a bigger vision to create the Revelry Gala & Auction, Randy stepped up and co-chaired that event the first year, creating the model that still thrives today. They remained engaged even after Jillian's graduation, and we were fortunate to have Shannon's leadership and vision when she served on our Board of Directors from 2010 to 2012. Both Shannon and Randy served on the Strategic Visioning Team as we embarked on our master planning last year. As they begin to transition into retirement, this power couple's service to the St. Francis community and our Troubadours does not wane, and we are forever grateful.
About the Spirit of San Damiano Award
St. Francis Catholic High School introduced "The Spirit of San Damiano Award" to recognize outstanding individuals who have significantly contributed to our school community by modeling our pillars of faith, excellence, leadership and service for a period of 10 years or more.
These outstanding individuals inspire and empower us to fulfill our mission of "serving young women and their families who seek a community of faith, excellence, leadership, and service, grounded in the teachings of Jesus Christ." Our honorees are being recognized for their love of St. Francis Catholic High School and our Troubadours which is evidenced by their extreme generosity of time, talent and treasure.
Honorees of the Spirit of San Damiano Award will be recognized at St. Francis' Revelry Gala held on March 7, 2020. Purchase your Revelry tickets here.