Tickets
We are happy you are interested in attending arts performances at SFHS. Please use the link below to visit our ticketing portal. Tickets may be purchased online and printed at home, sent to your phone or Apple Wallet. The calendar below will have our full schedule of arts events including free gallery openings, recitals and more!
Don't forget all Parents & Grandparents can complete Parent Service hours by attending Patrons of the Arts board meetings! See upcoming meetings below
TICKETS ON-SALE NOW
Dance Concert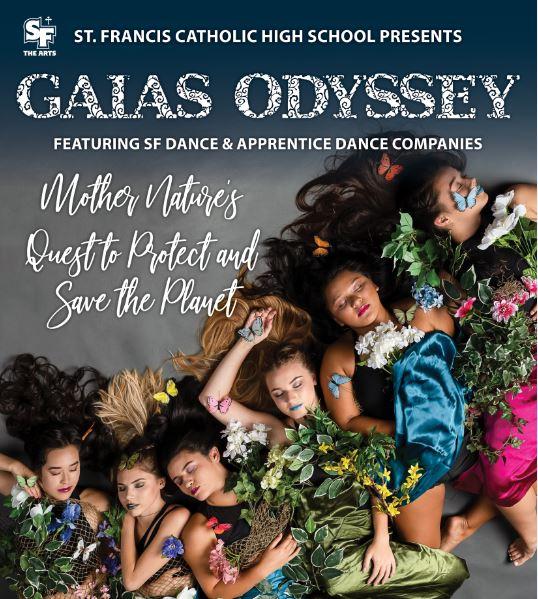 SFHS Dance Companies and Hula perform modern to classical dance. Gaia, Mother Nature, is on a quest to protect her planet from the destructive habits of mankind. As she moves through the Earth, she encounters the reality of what is becoming in her home. The forests being torn down for resources, butterflies being impacted by radioactivity, oceans and lakes being polluted all because Humans are taking over the land that was supposed to be shared by all creatures.
Jan 24, 3:30pm | Student Rush Show $5 cash at the door, general seating.
Jan 25, 7:00pm | Evening performance $7/$12 reserved seats.
Theatre One Acts "girls"
SF Players Perform "girls", a devised ensemble project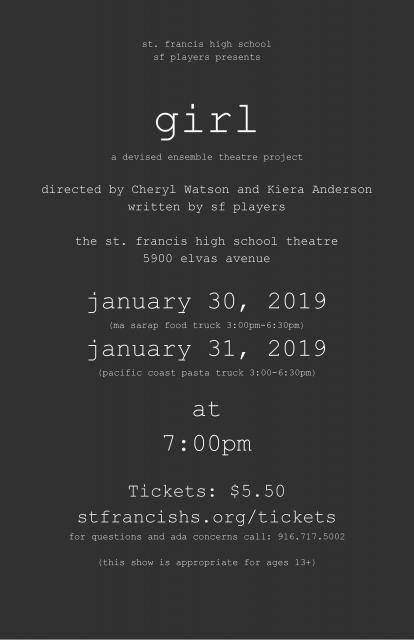 What is it like to be a girl in America? In this dynamic, original one-act, fifty young women unpack this question through text, movement and multimedia. Using an ethnodrama approach, students conducted individual interviews, wrote poetry and shared their real-life stories to uncover their reactions to the challenges adolescent girls face, and the impact the actions of their peers and adults have in their lives. These artists make meaning of their collective experiences and show us the beauty, resilience and strength it takes to be a girl today.
Jan 30, 7:00pm
Jan 31, 7:00pm
Food Trucks at the theatre before the show 3:00-6:30pm.

Theatre Play "Quilters"
Friday Mar 22, 2019 – Saturday Mar 30, 2019

Dance Showcase 2019
Thursday Apr 11, 2019 | 7pm
DIRECTIONS & PARKING
Theatre Address:
5900 Elvas Avenue, Sacramento, CA 95819
Directions:
From downtown Sacramento, take Highway US-50 take the 65th Street exit, EXIT 8B, toward Power Inn Rd/Howe Ave. Turn Left onto 65th Street. Turn left onto Elvas Ave. 5900 Elvas Ave. Sacramento, CA is on your left. The theatre is on the St. Francis Catholic High School campus along Elvas Avenue.
Parking at the theatre parking lot is free.