CampTroubie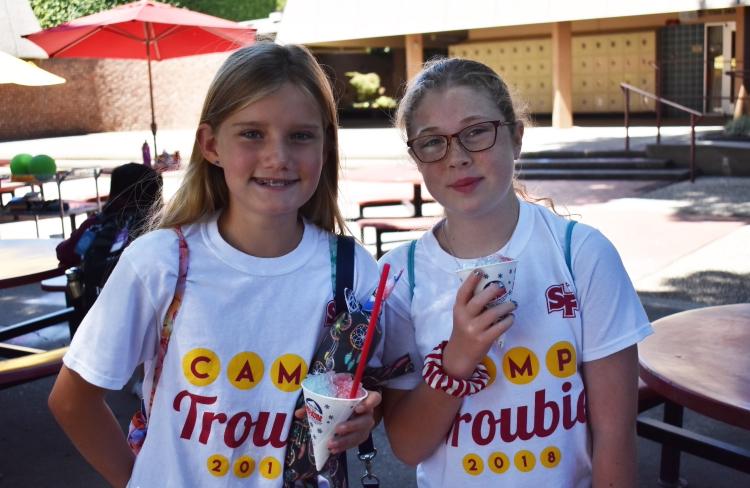 2021 Dates coming in January
Camp Troubie is a four-week summer program for 5th through 8th grade girls. Morning classes focus more on academics and afternoon classes are enrichment-focused.

Students may join us for a half-day or full day program. Current St. Francis students act as Camp counselors and will greet students, assist with classes, and lead lunchtime activities for our all-day campers.

PLEASE NOTE: Camp Troubie is a CELL PHONE FREE ZONE. Campers may bring cell phones to Camp with them, but they will be safely stowed during classes and lunch so that campers can interact and enjoy the many activities we offer.
Morning classes:

8:30 am to 12:00 pm

(choose two 90 minute classes)

$450

---

Afternoon classes: 12:45 pm to 3:30 pm

(choose two 75 minute classes)

$300
You can choose two sessions in the morning and two in the afternoon to completely customize your Camp Troubie experience!
MORNING CLASSES
MATH IN ACTION
This camp enriches campers' understanding of math by exploring real-world applications of mathematical concepts, while focusing on growth mindset in mathematics. Are you eager to review last year's math concepts and make sure you are ready to tackle new concepts next year? If so, this camp is for you! Through collaboration and project-based learning, you will develop your math confidence while reviewing and enriching the Common Core critical areas of study as outlined for 6th-8th grade Math and Algebra. Breakout sessions will group campers by grade and skill set for a customized Math experience.
Level: 6th through 8th grade
MOVIES & STORYTELLING
Do you love movies? Do you like to talk about what makes a movie great? In this class you have the chance to do just that. Each week we will watch a full length movie, a film short, and film clips to learn how filmmakers tell great stories in film. We will analyze how stories are told without words, how conflict drives plot, how theme and character are developed, and how setting impacts story. You will also learn about film techniques such as light and shadow, sound and music, camera angles and editing. You can look forward to sharing one of your favorite films and leading a discussion of its merits.
Level: 5th through 8th grade
INTRO TO GRAPHIC DESIGN
This course offers an introduction to computer programming using the Processing language. Built for graphic design, this language gives students the chance to create drawings, animations, and interactive graphics. This class will be filled with hands-on coding activities. Students will be creating visuals from day one and will be exposed to the fundamental concepts of computer programming along the way. Level: 7th and 8th grade
BOOKS & BOARD GAMES
Without cooperation, competition is not possible; you have to agree to the rules of the game, then play. In this collaborative course, you will practice strategy, negotiating skills, and following directions in a variety of game settings. There will also be seminar discussions about a short novel that will be read in class, which will culminate into the design and creation of an original game. Come read a good book and play games — you may find that thoughtful discussion and playing well with others are skills that go beyond the game table.
Level: 5th through 8th grade
LEADERSHIP
The world needs passionate and enthusiastic young women to share their opinions, talents, and skills. Whether you think you are a natural-born leader or you'd like to work on your leadership skills, this class is for you! Explore your temperament and personality to discover your best leadership qualities while you learn about team building, overcoming obstacles, and goal setting. You'll work on group and individual projects while honing your skills in public speaking, active listening, and creative expression.
Level: 5th through 8th grade
AFTERNOON CLASSES
IMPROV
In this fun and creative class, students will learn how to think on their feet, create their own sketches, and gain confidence working in front of an audience of their peers. Improv teaches us to accept mistakes as gifts and communicate thoughts and ideas more effectively. If you want to build public speaking skills, creativity and cooperation while having fun, Improv is for you! No experience necessary.
Level: 5th through 8th grade
CIAO, ITALIA! EXPLORING ITALIAN LANGUAGE AND CULTURE
Are you in love with the beauty of Italian art, food, and history? Are you interested in learning one of the most musical and romantic languages of the world? In this class, you will learn the basics of Italian conversation and vocabulary while exploring the wonders of the Italian culture through various hands-on activities, games, songs, and films. Topics include regional traditions, history, literature, art, cuisine, holidays, and fashion! This class provides an opportunity for students who are curious to explore their Italian heritage or just looking to dive into a whole new culture!
Level: 5th through 8th grade
JUNIOR SHOW CHOIR
If you like choreography, singing, and teamwork, this is the class for you! Work on your vocal and dance skills while having fun with members of the St. Francis Show Choir. At the end of Camp you'll perform for your fellow campers and families.
Level: 5th through 8th
POTPOURRI: FUN WITH FRENCH
This course explores the culture of the French-speaking world! Whether you are new to French language and culture or you have already learned about all things French, everyone is welcome to have fun in the Pot Pourri class! Throughout the camp, students will learn basic French phrases and vocabulary through a variety of hands-on activities, games, songs, cuisine, and movies. Students will also learn about different regions of France (Normandie, Bretagne, Provence, Champagne, and more) and their various cultural traditions. Enjoy French cuisine, too!
Level: 5th through 8th grade
ART
Explore a variety of art media including drawing, painting, collage, and more! This art class is for artists of all levels and abilities who want to learn techniques for their creative expression.
Level: 5th through 8th
Note: While we can nearly always place students in their first choice classes, we cannot guarantee the order of the classes (which class will be first and which class will be second) in the morning or afternoon sessions.
We offer after-school care for Camp Troubie from June 8-July 2, 2020. Hours: 3:30-5:00 pm. Please look at our online Registration for more details.