CampTroubie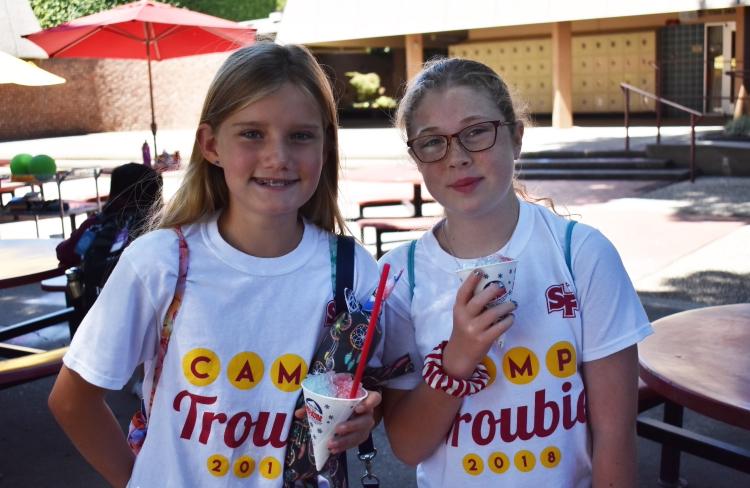 Camp Troubie is back!
We are excited to host our in-person camp this summer. Rising 5th to 8th grade girls can spend the morning with St. Francis teachers and camp counselors in a safe and fun environment. Each camp day features academic content, movement (including dance or yoga), outdoor time, and snacks. All summer courses will run in-person.
Camp Troubie is $125 per week.
Week 1: Math Matters June 14-18, 2021
8:30 am to 12:30 pm
Learn important Math strategies and focus on growth mindset, wherever you are in your Math journey. Enjoy our dedicated outdoor Math classroom and develop confidence in being a Mathlete!
Week 2: Writing & Study Skills June 21-25, 2021
8:30 am to 12:30 pm
Clear communication and solid strategies are the keys to academic success no matter what grade you are in. We'll focus on critical thinking, test taking strategies, and being a persuasive writer.
Week 3: World Languages and Cultures June 28-July 2, 2021
8:30 am to 12:30 pm
Get an introduction to the romance languages of French, Italian and Spanish while learning more about the cultures that speak those languages.
Week 4: Leadership July 6-9, 2021
8:30 am to 1:30 pm*
Are leaders born or made? Learn how to tap into your natural abilities and cultivate characteristics that will allow you to inspire others while making an impact in your school and community.
*This camp is 5 hours per day instead of 4 hours per day since July 5th is a holiday.
PLEASE NOTE: Camp Troubie is a CELL PHONE FREE ZONE. Campers may bring cell phones to Camp with them, but they will be safely stowed during classes so that campers can interact and enjoy the many activities we offer.