18 Troubadours Earn SportsStars Magazine All-City Honors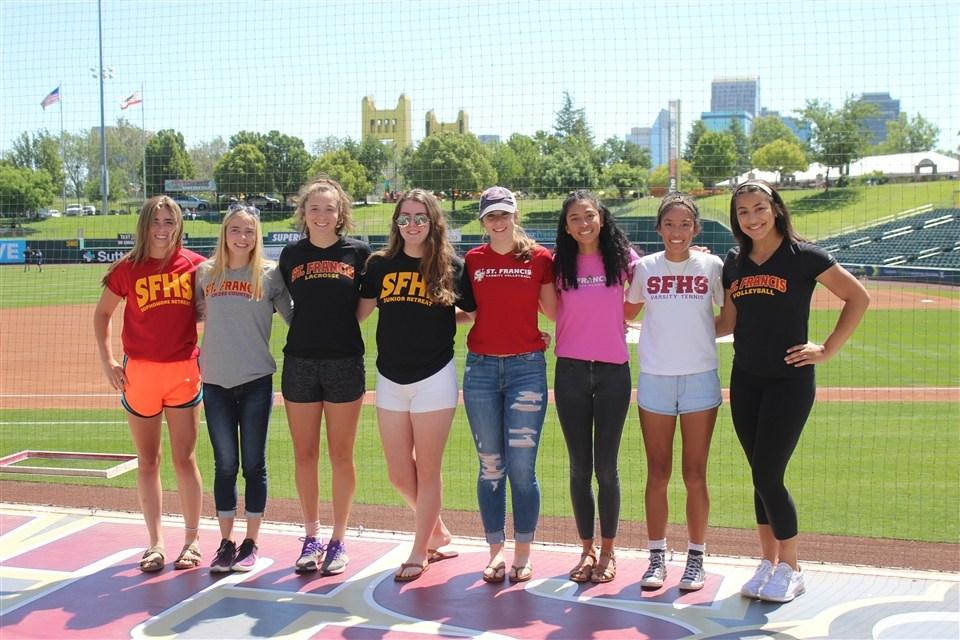 SACRAMENTO, Calif. – The St. Francis athletic department had 18 student-athletes recognized on the SportStars™ Magazine All-City team presented by the Sacramento River Cats prior to Sunday's River Cats game at Raley Field.
St. Francis had the second-best total in the section, trailing only Davis (21), and one of four schools with more than 10 honors including Oak Ridge (13) and Granite Bay (10) on the girl's teams.
The Troubadours had three selections from the Sac-Joaquin Section champion cross country and tennis teams. Senior Sydney Vandegrift, junior Sophie DeBenedetti and sophomore Haley Silva were named to the cross country team, while Adithi Benush and Kiya and Kyla Jackson were chosen for the tennis team.
"It means a lot to me," said Silva after the ceremony. "I am really proud of my team and all we have accomplished this season. I am really happy to be recognized."
Alexa Edwards, Mady Schildmeyer and Kathryn Kramer were named to the volleyball team. Track and field had two representatives in Delta League champions Meghan Ladd (pole vault) and Isabella Palchak (high jump). Senior Maggie Pinkson and freshman Sophia Gorona were named to the lacrosse team.
"It is really exciting to be recognized," said Ladd, who owns the section's top mark in the pole vault this season. "My goal is maybe PR again and get more consistent."
The Troubadours also had representation on the basketball (Marlee Nicolos), golf (Patricia Sweeney), Diving (Molly Wilson), water polo (Kendall Houck) and softball (Chloe Smith) teams.
"I am honored to be on the team for the second year," said Sweeney. "It is really nice of the River Cats and SportsStars to put this together. It is cool and validates all the hard work I put in."
Sydney Vandegrift was chosen to the All-City team for the third time in her career. The Jackson sisters joined Edwards, Houck, Ladd, Schildmeyer, Sweeney, Wilson, DeBeneditti and Benush earning the honor for the second time.
St. Francis All-City Selections (18)
Marlee Nicolos, Basketball
Sydney Vandegrift, Cross Country
Sophie DeBenedetti, Cross Country
Haley Silva, Cross Country
Patricia Sweeney, Golf
Adithi Benush, Tennis
Kyla Jackson, Tennis
Kiya Jackson, Tennis
Alexa Edwards, Volleyball
Kathryn Kramer, Volleyball
Mady Schildmeyer, Volleyball
Kendall Houck, Water Polo
Maggie Pinkston, Lacrosse
Sophia Gorona, Lacrosse
Molly Wilson, Diving
Isabella Palchak, Track and Field
Meghan Ladd, Track and Field
Chloe Smith, Softball