Cross Country Wins Fourth Team Meet Title; Takes Capital Cross Challenge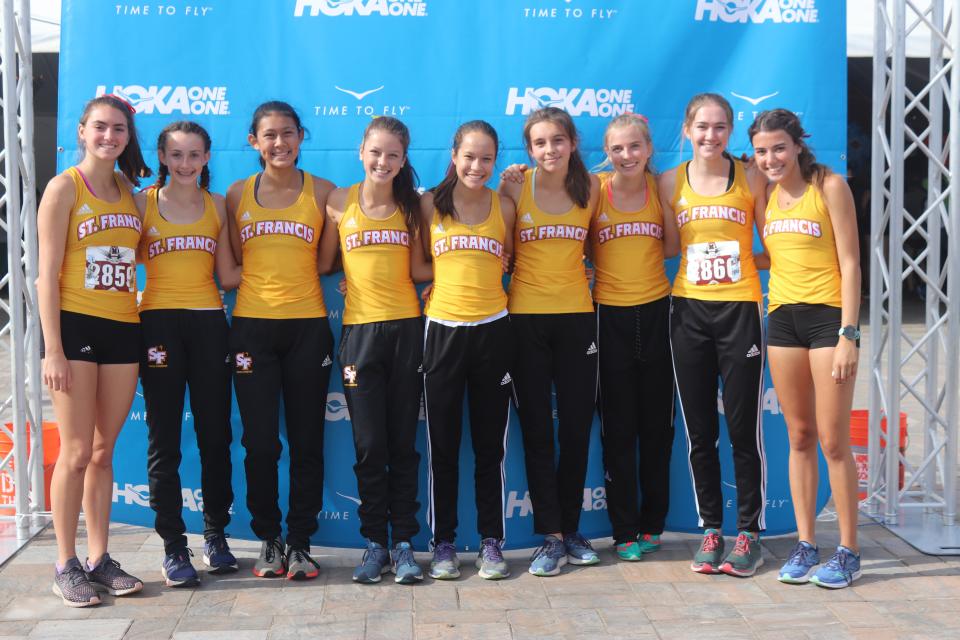 SACRAMENTO, Calif. – The St. Francis cross country team won for the fourth time this season by out-scoring Vista del Lago 59-76 Saturday at the Capital Cross Challenge at the Haggin Oaks Golf Complex.
"We were trying to stay together as a pack for the first two miles," said freshman Tatiana Cornejo. "For the last mile we were just going to go for it."
The Troubadours placed three runners in the Top 10 and each of the top five scorers in the Top 25. Junior Isabella Fauria led the team with her seventh-place finish in 18:35 to edge teammate Cate Joaquin, a freshman who won the Delta League meet individual title on Wednesday. Joaquin crossed in 18:38. Junior Haley Silva was the third SF runner in 18:43.
"I am trying to take every meet one step at a time and take every practice one step at a time," said Fauria. "We are all improving."
Cornejo was fourth in 18:57 with sophomore Hanna Hekkanen as the fifth scorer in 19:12.
"Our main goal today was to stick together as a team and work off each other," said Fauria. "We did that very well today. We had four girls in the top 20 which was amazing and we came out with the win. We are really excited about it."
Senior Sophie DeBenedetti was 26th overall in 19:25 with freshman Emily Castles, the Frosh/Soph winner at the Delta League meet, clocking a time of 19:42 to finish seventh. Senior Noelle Lynch (68th, 20:17) and junior Emma Hollenbach (81st, 20:32).
"My teammates did amazing," said Cornejo.
St. Francis also won the team titles at the Oakmont Invitational, Ed Sias Invitational and Delta League Meet.
The Trouabdours were second in the Girls Open race and fourth in the Frosh/Soph All Division races. Freshman Claire Silva was fifth in the F/S race with a time of 12:42 over the two-mile course. Junior Audrey Reyes was fourth in the Open face in 13:05.
"There was a lot of good energy around us," said Reyes. "The plan was to run for each other and keep going."
St. Francis returns to action on the CIF State Championship course in Clovis for the Clovis Invitational next Saturday.
Capital Cross Varsity Girls Seeded
Haggin Oaks Golf Complex
Team Results (Top 10)
1. St. Francis 59; 2. Vista del Lago 76; 3. Woodcreek 134; 4. Chicao 203; 5. Spring Creek 219; 6. Foothill (PC) 231; 7. Rio Americano 262; 8. El Camino 270; 9. Gregori 315; 10. Reed 316.
St. Francis Individual Results
7. Isabella Fauria, 18:35; 8. Cate Joaquin, 18:38; 10. Haley Silva, 18:43; 17. Tatiana Cornejo, 18:57; 22. Hanna Hekkanen, 19:12; 26; Sophie DeBenedetti, 19:25; 34. Emily Castles, 19:42; 68. Noelle Lynch, 20:17; 81. Emma Hollenbach, 20:32.
Frosh/Soph Girls All Division Team Results (Top 5)
1. Whitney 32; 2. Oak Ridge 110; 3. Davis 111; 4. St. Francis 115; 5. Woodcreek 179.
Frosh/Soph Girls All Division Individual Results (Top 5)
5. Claire Silva, 12:42; 16. Peyton Carson, 13:13; 26. Nora Smith, 13:31; 27. McKenna McKrell 13:33; 49. Allison Prestwich, 13:49.
Opens Girls Division Team Results (Top 5)
1. Davis 26; 2. St. Francis 42; 3. Bella Vista 109; 4. Campolindo 159; 5. Whitney 160.
Opens Girls Division Individual Results (Top 5)
4. Audrey Reyes, 13:05; 6. Morgan Watson, 13:20; 8. Grace Rogers, 13:27; 11. Nicole McBride, 13:36; 19. Cassidy Lourim, 13:56.