Thirty Troubadours Honored with SportStars All-City Honors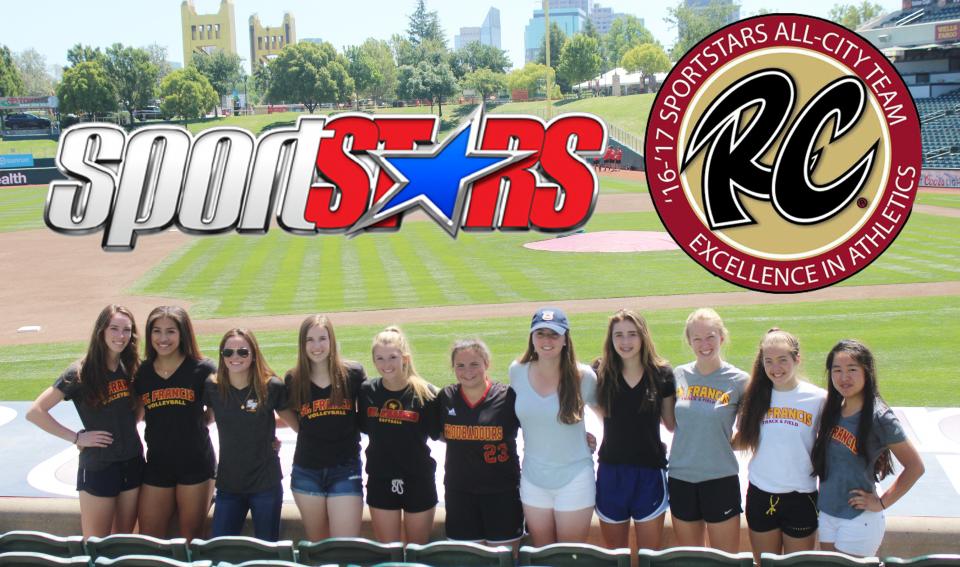 SACRAMENTO, Calif. – St. Francis had 30 Troubadours represented on the 2016-17 SportStars River Cats All-City teams announced before Sunday's game with against the Nashville Sounds. Overall, SportStars Magazine celebrated 500 athletes at the eighth annual event.
Track and field led the athletic department with five selections to the all-city teams, including seniors Meaghan Rogers and Elizabeth Hennessy, as well as freshman Meghan Ladd. Rogers and Hennessy are double qualifiers in the Sac-Joaquin Sections Masters meet, while Ladd finished third this past weekend at Sections in the pole vault.
The NorCal semifinalist St. Francis volleyball team had four student-athletes, including freshman Alexa Edwards, senior Claire Schutz, junior Aiyu Aimufua and junior Madelyn Schildmeyer. Edwards led the Troubadours to a 29-17 mark in 2016 and within one win of a berth in the California Div. II finals. She led the team with 526 kills and digs with 425. She was named to the Delta League first team and was named to the MaxPreps Freshman All-America Team.
The swimming and diving team also had four representatives, including CIF State Diving finalist Molly Wilson.
St. Francis River Cats All-City Team Selections (30)
GIRLS VOLLEYBALL
Alexa Edwards, St. Francis
Madelyn Schildmeyer, St. Francis
Aiyu Aimufua, St. Francis
Claire Schutz, St. Francis
GIRLS GOLF
Olivia Alcoran, St. Francis
Chase Saca, St. Francis
Patricia Sweeney, St. Francis
GIRLS TENNIS
Adithi Benush, St. Francis
Kiya Jackson, St. Francis
Kyla Jackson, St. Francis
GIRLS CROSS COUNTRY
Sydney Vandegrift, St. Francis
Isabella Fauria, St. Francis
Sophie DeBenedetti, St. Francis
GIRLS WATER POLO
Sally Ferguson, St. Francis
Kendall Houck, St. Francis
GIRLS BASKETBALL
Janae Fairbrook, St. Francis
Julia Razo, St. Francis
GIRLS SOCCER
Janae DeFazio, St. Francis
Savannah Tijerino-Santos, St. Francis
SOFTBALL
Lauren Washburn, St. Francis
Rhyann O'Mara, St. Francis
GIRLS TRACK & FIELD
Sydney Vandegrift, St. Francis
Meaghan Rogers, St. Francis
Elizabeth Hennessy, St. Francis
Meghan Ladd, St. Francis
Kathryn Kramer, St. Francis
GIRLS SWIMMING & DIVING
Tatum Roepke, St. Francis
Taylor Koewler, St. Francis
Elizabeth Fugit, St. Francis
Molly Wilson, St. Francis