18 Troubadour Alumnae on NCAA Volleyball Rosters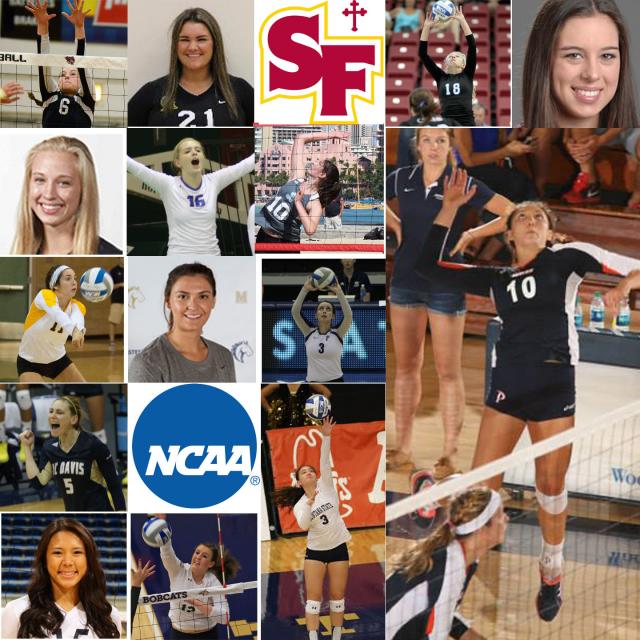 SACRAMENTO, Calif. – The St. Francis volleyball program has 18 alumnae on collegiate rosters this fall across all NCAA Divisions. Pepperdine standout Gabi Palmeri leads a talented group of players taking the court this season after starring for Head Coach Alynn Wright and St. Francis.
Several programs have become popular destinations for the Troubies especially in California.
UC Irvine boasts three Troubadours on their roster for the 2015 season after signee Kyle Green '15 and transfer Ali Koumelis '14 (Portland) joined redshirt freshman Chloe Hakim '14. They will play in the Big West against UC Davis and UC Santa Barbara, two programs that also include SF alumnae. In fact, the Aggies feature two Troubies in Allie Wegener '12 and new freshman Anna Donald '15.
UC Davis and UC Irvine meet Oct. 3 in Davis and play in Irvine on Nov. 21, while UCSB travels to Davis on Oct. 8 and hosts the Aggies on Nov. 6.
Troubie alumnae Dana Vestman '13 and Loni Kreun '13 both play for the Montana State Bobcats in the Big Sky Conference and will return home to take on Sacramento State on Oct. 22.
These are just a few of the several matchups between Troubies this season.
Other Troubadour matchups this season: Pepperdine (Palmeri) and Gonzaga (Paige Folger) meet up in the West Coast Conference (Oct. 10 in Spokane and Nov. 5 in Malibi), while Liserra's St. Mary's squad will also meet up with Pepperdine (Oct. 1, Oct. 1) and Gonzaga (Sept. 26, Nov. 19). Dominican (Alexa LoGiudice) and Hawaii Pacific (Lea Felton) play in the PacWest Conference (Sept. 26 in Honolulu).
St. Francis Volleyball Alumnae in the NCAA: Anna Baytosh '14 (Chico State), Karson Bisharat '14 (Central Arizona), Allison Child '13 (Master's College), Anna Donald '15 (UC Davis), Lea Felton '14 (Hawaii Pacific), Paige Folger '11 (Gonzaga), Marissa Gollnick '15 (Rose-Hullman Institute of Technology), Kyle Green '15 (UC Irvine), Chloe Hakim '14 (UC Irvine), Ali Koumelis '14 (UC Irvine), Loni Kreun '13 (Montana State), Hannah Lissera '12 (CS San Bernardino), Alexa LoGiudice '14 (Dominican), Gabi Palmeri '12 (Pepperdine), Courtney Robledo '13 (West Texas A&M), Megan Sullivan '14 (UC Santa Barbara), Dana Vestman '13 (Montana State), Allie Wegener '12 (UC Davis).