Cross Country Finishes 10th at Clovis Invitational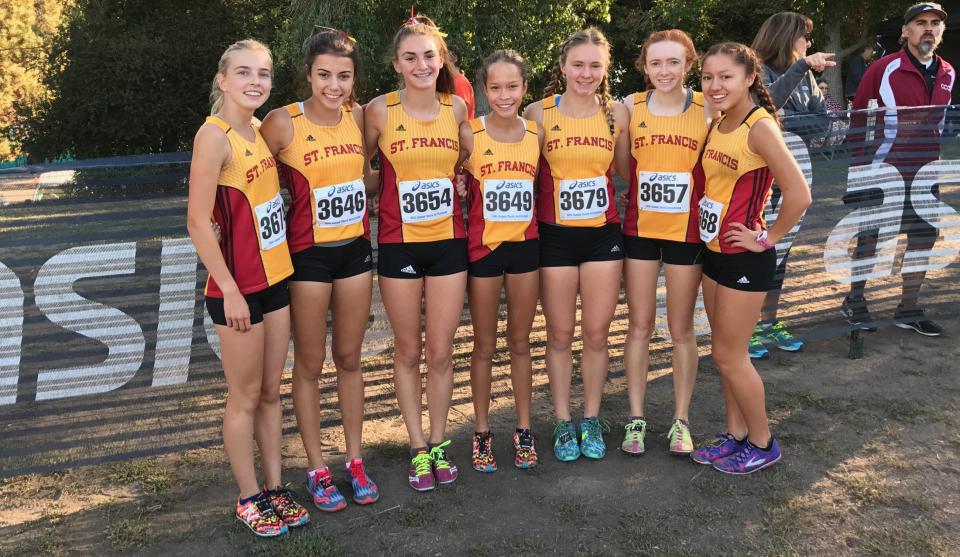 FRESNO, Calif. – Freshman Izzy Fauria finished fourth overall as the St. Francis cross country team placed 10th at the Clovis Invitational on Saturday.
Fauria clocked 17:52.7 over the 5k course at Woodward Park, site of the 2016 CIF State Championships. Sydney Vandegrift was 19th overall in 18:11 despite battling an illness during the week. Sophomore Sophie DeBenedetti placed third on the team in 19:10 (77th overall).
Great Oak won the team title with 81 followed by Davis Senior (114) and Arcadia (143). St. Francis was 10th overall with 286 points.
Other finishers for the Troubies included freshman Haley Silva (85th, 19:25), freshman Emma Hollenbach (101st, 19:39), senior Allie Lourim (109th, 19:48) and junior Alana Reyna (129th, 20:16).
The Junior Varsity team was 10th overall led by junior Teresa Lee in 21:18 in the combined Division I and II JV race. The Frosh/Soph team was seventh in the combined Division I and II race. Sophomore Cassidy Lourim was the top finisher.
Locally, several Troubies ran in The Other Meet at Granite Regional Park. Freshman Meghan Seifert took 14th overall in the Fresh/Soph race with a time of 16:12.0 which was a PR for her on the course. She was followed by teammates Helena Wetch (17:03.2) and Madeline Dunlay (17:09.0) who also had great races, both clocking in PRs at 30th and 33rd place. Freshman Sasha and Katya Utter made their first appearance in the varsity race today! They were led by upperclassmen Chynna Hinrichsen and Lauren Nolan.
"It's always a great day to be a Troubie!," said Assistant Coach Amy Sebeysma. "The ladies ran well today and I'm proud of the hard work they put into today's race. We were not able to score as a team, but we left with 5 personal bests and smiles on our faces! Go SF XC!!!"
The team will run at the Bronco Invitational on Saturday at Willow Hills Reservoir, the site of the Sac-Joaquin Section Championships.