Cross Country Wins Bronco Invitational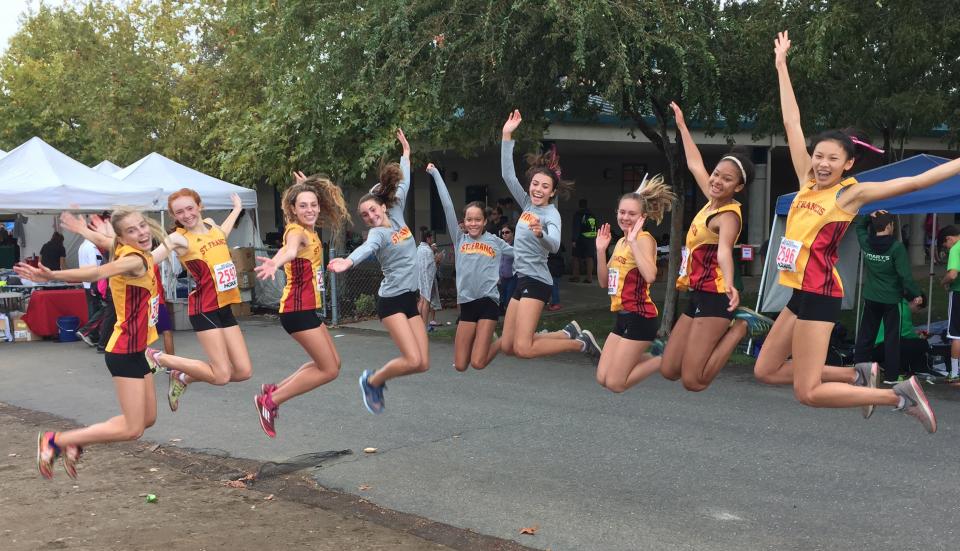 FOLSOM, Calif. – The St. Francis cross country team won the Bronco Invitational with 55 points behind the 1-2 finish by standouts freshman Izzy Fauria and junior Sydney Vandegrift.
St. Francis placed their top six among the top 23 to edge Buchanan (74 points) and Clovis North (109 points) on the course site for the Sac-Joaquin Section Championships. Buchanan finished sixth in Clovis last week ahead of the St. Francis in 10th.
Fauria won the individual title, running the 5K distance in 18:16 just eight seconds ahead of Vandegrift, who finished second in 18:24. Sophie DeBenedetti was the third Troubadour across the line in 19:29, while freshman Haley Silva was 19th overall in 20:05. Senior Allie Lourim was fifth runner for SF, clocking a 20:12 to finish 22nd. Freshman Emma Hollenbach was 23rd in 20:16.
Cassidy Lourim was the top finisher in the Frosh/Soph race in 14:08 over 3400 meters to place sixth to lead the team to a third-place finish. Savanna McGrew was eighth in the JV race for the Troubadours.
Fauria won for the fifth time this season and fourth at the varsity level in her first prep season. She also won the varsity races at the Capital Cross Challenge, the Carondelet Cross Country Invitational and the Oakmont Invitational.
St. Francis will return to action on Friday, Oct. 28 at the Delta League Championships at Granite Regional Park.