Tennis Defeats Davis 6-3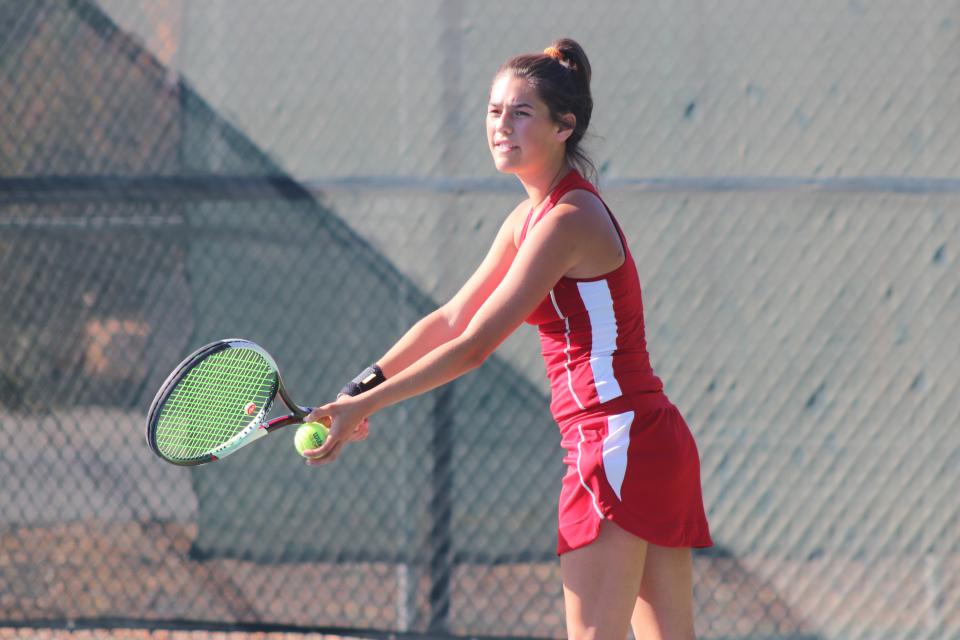 DAVIS, Calif. – The St. Francis tennis team posted a 6-3 road victory over Davis Tuesday afternoon, posting four singles and two doubles win. The victory improved the Troubadours to 10-1 on the season with a perfect 4-0 Delta League record.
Sophomore Alisha Anwar, junior Adithi Benush, junior Sam Sonntag and freshman Safaa Umar were straight set winners in singles. Juniors Biana Ariza and Peyton Spellacy won at No. 1 doubles and senior Roya Pahlavan and sophomore Rosmy Alengaden recorded a win at No. 2 doubles.
The team is off the rest of the week before continuing with a match against Cosumnes Oaks on Tuesday. The Troubadours have now won 35 consecutive Delta League matches dating back to 2015.
Tennis 6, Davis 3
Singles
No. 1 Singles Lyna Jiang, D, def. Myra Anwar, SF, 3-6, 7-5, 1-0 (10-7)
No. 2 Singles Alisha Anwar, SF, def. Maru Marques, D, 6-1, 6-1
No. 3 Singles Adithi Benush, SF, Michela Gunther, D, 6-1, 6-2
No. 4 Singles Mei McConnell, D, def. Izzy Asker, SF, 6-2, ret.
No. 5 Singles Sam Sonntag, SF, def. Danielle Bollinger, D, 6-4, 6-24
No. 6 Singles Safaa Umar, SF, def. Grace Ji, D, 6-0, 6-1
No. 1 Doubles Bianca Ariza/Peyton Spellacy, SF, def. Julia Pun/Maggie Warren, D, 6-2, 6-2
No. 2 Doubles Roya Pahlavan/Rosmy Alengaden, SF, def. Reyna Shauman/Mehrsa Hassanzadh, D, 7-5, 5-7, 1-0 (10-2)
No. 3 Doubles Grace Bosco/Jade Lundy, D, Emmy Goebels/Maddie Brown, SF, 6-3, 6-4