Tennis Falls in NorCals to Amador Valley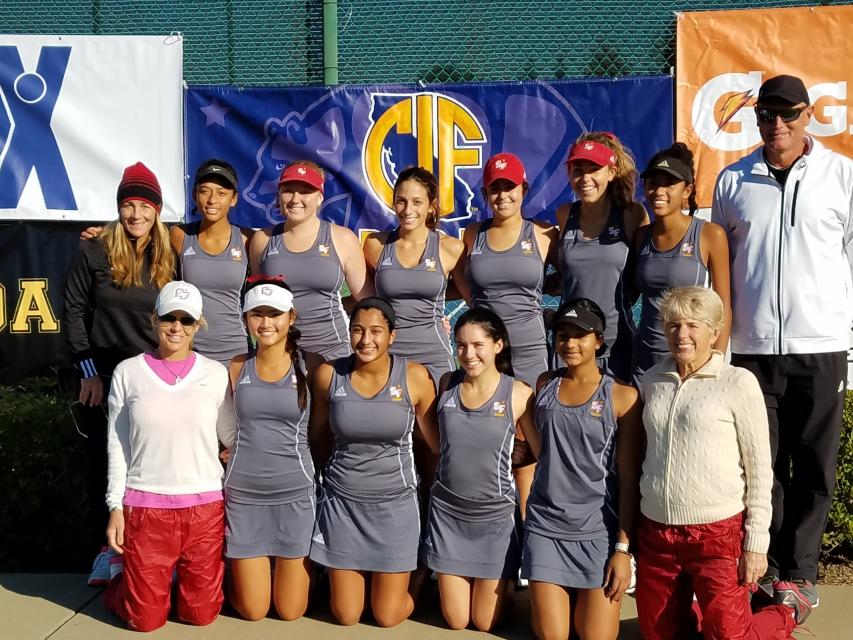 FOLSOM, Calif. – The St. Francis tennis team's season came to an end Friday in the quarterfinals of the CIF/USTA Northern California Regional Tennis Championships presented by Farmers with a 5-2 loss to third-seeded Amador Valley at the Broadstone Racquet Club.
"I am really proud of the girls for the way they played, not only today, but the entire season," said Head Coach Kristi Spector. "This was truly a team all the way from No. 1 to No. 18 in terms of support each other and working together on and off the court. It has been a wonderful year with a lot of support."
St. Francis won the top two doubles matches behind the play of juniors Kiya and Kyla Jackson at No. 1 and seniors Abby Benvenuti and Sabrina Voeller at No. 2.
"Coming in we knew it was going to be a tough match," said Spector.
The Jackson sisters defeated Ayushi Singh/Kirsten Hewitt in straight sets 6-1, 6-3, while Benvenuti and Voeller posted 6-3, 6-3 win over the pair of Aileen Shen and Julia Vasilyeva.
"I am kind bummed," said Benvenuti after the match. "I knew everyone worked as hard as they could and put everything into the match. At the end of the day, It is pretty cool to say we were No. 6 in Northern California."
Amador Valley swept the four singles matches and recorded a win at No. 3 doubles to clinch the match. St. Francis's singles representatives includes Myra Anwar at No. 1, Adithi Benush at No. 2, Marisa Fat at No. 3 and Annie Gianulias at No. 4. Junior Cameron Parra and senior Macy Wood fell at No. 3 doubles.
"Coming out here to the NorCal Championship was such a big accomplishment," said Gianulias. "Even though we lost today, we all played our best tennis. We played hard and did our best and that is a great accomplishment."
It was the final match for four seniors in the playing lineup – Benvenuti, Gianulias, Voeller and Wood.
'They are going to have lots of friendships that will extend beyond the St. Francis school years," said Spector. "It is network they will have forever. Some of the seniors played the best tennis today I have seen all year. They did not all win but it was fitting to go out on a high note personally."
St. Francis finished with an 18-3 record on the season. The Troubadours were among the final 16 teams in the state playoffs among 1590 high schools in California.
Amador Valley 5, St. Francis 2
Singles
1. Abbey Purvis, AV, def. Myra Anwar, SF, 7-6 (4), 6-3
2. Isabel Poljakovic, AV, def. Adithi Benush, SF, 6-1, 6-0
3. Danielle Sonobe, AV, def. Marisa Fat, SF, 6-0, 6-2
6. Cindy Wang, AV, def. Annie Gianulias, SF, 6-0, 6-0
Doubles
1. Kiya Jackson/Kyla Jackson, SF, def. Ayushi Singh/Kirsten Hewitt, AV, 6-1, 6-3
2. Abby Benvenuti/Sabrina Voeller, SF, def. Aileen Shen/Julia Vasilyeva, AV, 6-3, 6-3
2. Junna Yanai/Ayana Yanai, AV, def. Cameron Parra/Macy Wood, SF, 6-3, 6-4