Tennis Serves 8-1 Victory over Elk Grove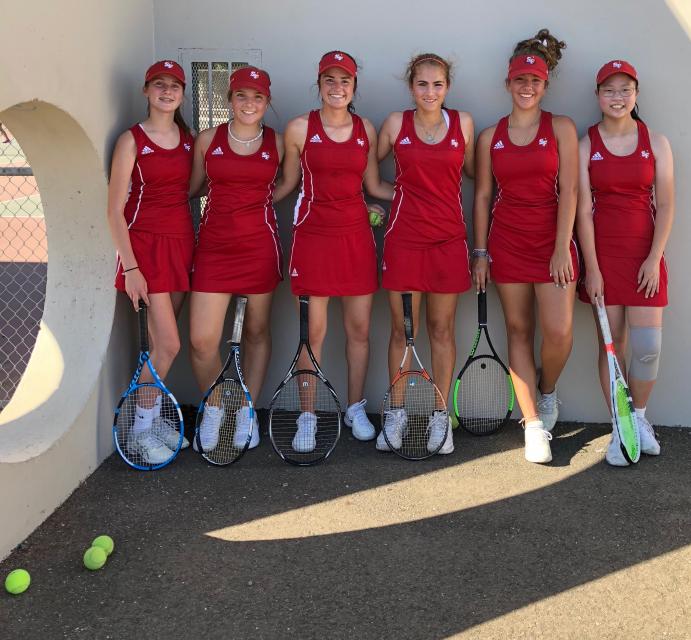 SACRAMENTO, Calif. – The St. Francis tennis team posted an 8-1 victory over Elk Grove on Thursday, improving to 11-1 and 7-0 in league play.
St. Francis won all six singles matches, while losing just two games overall. Freshman Safaa Umar played at No. 4 singles, defeating Audrey Need of Elk Grove in straight sets 6-0, 6-0. Senior Roya Pahlavan posted a straight set win at No. 5 and sophomore Rosmy Alengaden completed the sweep at No. 6.
In doubles, sophomore Siena Vincent and freshman Ella Dichiera paired for a 6-1, 6-2 win over Veronica Wetkins and Gwen Radmacher. At No. 3, sophomores Olivia Hazaghazam and Jenna Fratus were winners.
The Troubadours have now won 36 consecutive Delta League matches dating back to 2015. They return home on Tuesday, Sept. 25 with the final league match of the first half against new member Cosumnes Oaks. First serve is at 3:45 p.m.
St. Francis 8, Elk Grove 0
No. 1 Singles Myra Anwar, SF, def. Ashley Cresci, EG, 6-1, 6-1
No. 2 Singles Alisha Anwar, SF, def. Kylie Cresci, EG, 6-0, 6-0
No. 3 Singles Adithi Benush, SF, def. Evelyn Catenia, EG, 6-0, 6-0
No. 4 Singles Safaa Umar, SF, def. Aufrey Need, EG, 6-0, 6-0
No. 5 Singles Roya Pahlavan, SF, def. Kerrina Edwards, 6-0, 6-0
No. 6 Singles Rosmy Alengaden, SF, def. Alyssa Morris, EG, 6-0, 6-0
No. 1 Doubles Katy Berg/Siannan Yee, EG, def. Maddie Brown/Lauren Lai, SF, 6-3, 7-5
No. 2 Doubles Siena Vincent/Ella Dichiera, SF, def. Veronica Wetkins/Gwen Radmacher, DG, 6-1, 6-2
No. 3 Doubles Oliva Hazaghazam/Jenna Fratus, SF, def. Rachel Seamons/Megan Melis, EG, 6-1, 6-1
St. Francis 8, Elk Grove 1