Tennis Sweeps Cosumnes Oaks in First Delta League Meeting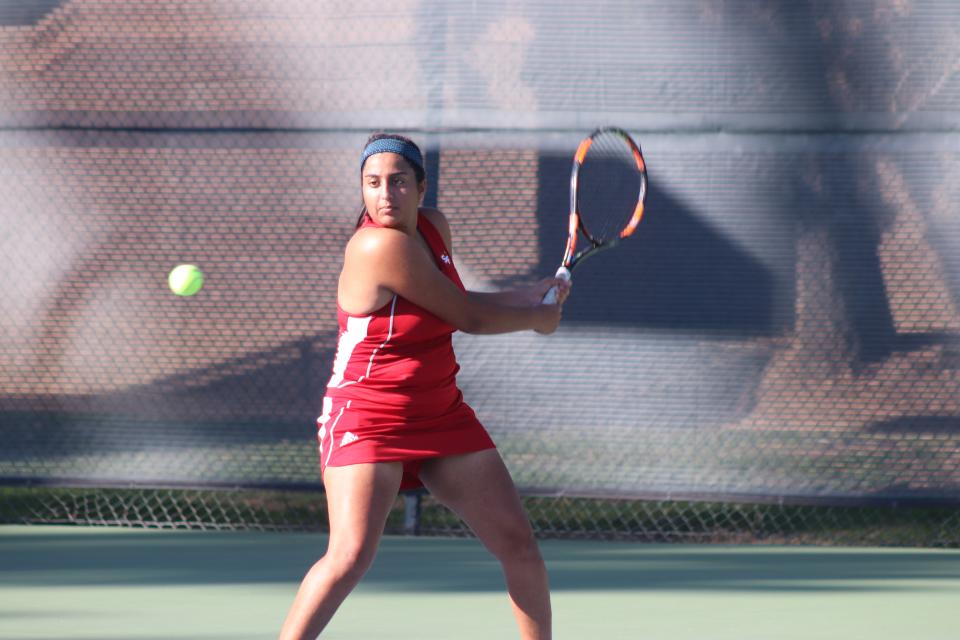 SACRAMENTO, Calif. – Senior Myra Anwar led a 9-0 sweep over Cosumnes Oaks in the first meeting between the schools as Delta League members.
"It was the first our first meeting with Cosumnes Oaks so we did not know anything about them so we went out there and played our best games," said Anwar.
Anwar posted a 6-0, 6-2 win over Athena Wilson at No. 1 singles with a 6-0, 6-2 win.
"I felt really good about my match," said Anwar. "It was nice to work on game and new formations. It was a good match overall."
Junior Adithi Benush posted a win at No. 2 to improve to 12-1 on the season. Junior Sam Sonntag played at No. 3, winning a 6-2, 6-1 match over Violet Kwan. Other winners for the Troubies included sophomore Alex Evans, juniors Bianca Ariza and junior Peyton Spellacy.
Freshman Safaa Umar and sophomore Rosmy Alengaden led the team in doubles with a 6-3, 6-1 win at No. 1 doubles. Emmy Goebelsd and Maddie Brown and Lauren Lai and Siena Vincent combined for doubles wins at No. 2 and 3, respectively.
St. Francis (7-0 in league play) starts the second half of Delta League play on Thursday at Franklin.
Anwar said the undefeated league mark has given the team confidence heading into the second half.
"It is really nice because we know what all the teams are like and it will give us confidence than the first time," said Anwar. "We will know what we need to work on."
St. Francis 9, Cosumnes Oaks 0
No. 1 Singles Myra Anwar, SF, def. Athena Wilson, CO, 6-0, 6-2
No. 2 Singles Adithi Benush, SF, def. Sara Alsaher, CO, 6-0, 6-3
No. 3 Singles Sam Sonntagg, SF, def. Violet Kwan, CO, 6-2, 6-1
No. 4 Singles Alex Evans, SF, Emily Lio, CO, 6-0, 6-1
No. 5 Singles Bianca Ariza, SF, Camille Pon, CO, 6-0, 6-2
No. 6 Singles Peyton Spellacy, SF, def. Zinnia Kwan, CO, 6-1, 6-1
No. 1 Doubles Safaa/Umar, SF, def. Jade Fuang/Nadine Ganzon, CO, 6-3, 6-1
No. 2 Doubles Emmy Goebels/Maddie Brown, SF, def. Kayla Anderson/Nitya Agarwal
No. 3 Doubles Lauren Lai/Sienna Vincent, SF, def. Sammy Chew/Amita Kaier, CO, 6-1, 6-0 -