2015-16 Basketball Highlights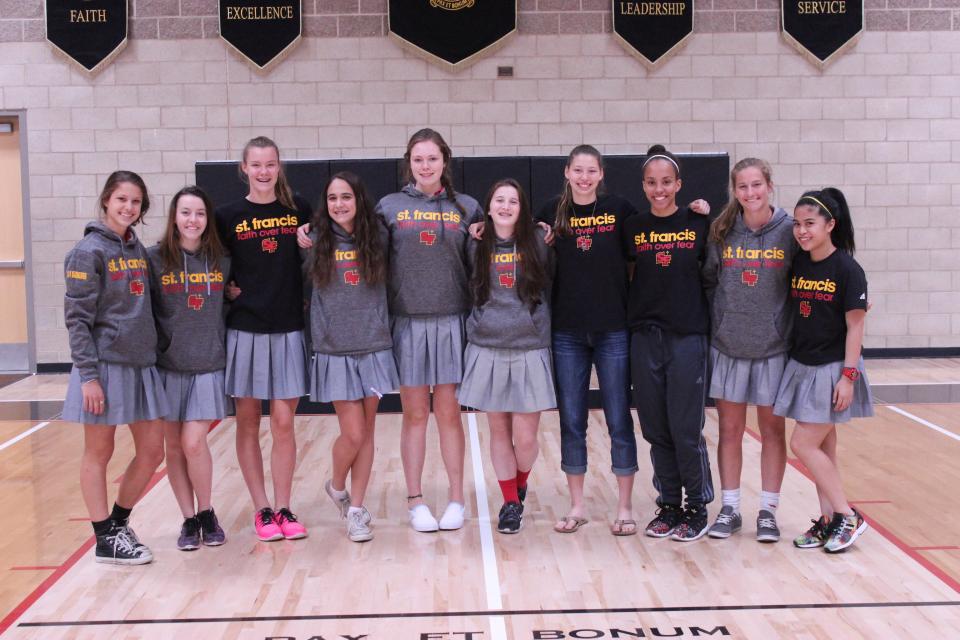 The St. Francis basketball team's postseason run ended with a loss in the CIF Division I State Championship but not before posting a set of accomplishments that will be remembered forever in the school's history books.
St. Francis lost 64-51 to Brea Olinda in their quest for the second state championship in school history. The Troubadours had not reached the state final since the school won the Division III title in 1993, bringing back memories from alumnae and fans alike. Several members of the 1993 attended the state final at Sleep Train Arena.
St. Francis won the CIF NorCal Division I Championship Saturday with a 66-52 come-from-behind victory over Castro Valley.
Francis was the No. 1 seed in the NorCal Regional and posted wins over Lincoln of San Francisco (81-36), Menlo-Atherton (74-51) and Castro Valley (66-52) to reach the championship game. The Troubadours were the No. 2 seed in the Sac-Joaquin Section playoffs, posting wins over Woodcreek (81-39) and Lincoln of Stockton (67-62) to qualify for the NorCals. They defeated Oak Ridge at the Spanos Center in Stockton in the semifinals (88-61) and lost to No. 1 seed St. Mary's (94-58) in the section finals.
Head Coach Vic Pitton was named the Sacramento Bee Girls Coach of the Year and senior Lauren Craig was selected to the All-Metro first-team, one of four Troubadour players named to the All-Metro team.
St. Francis won the Delta League Championship with a perfect 14-0 record including two wins over Division II finalist Elk Grove. It is the first league title since 2011 and 13th in school history. Vic Pitton was the named the Delta League Coach of the Year and Lauren Craig was named the Player of the Year. Senior Kyra Huffman and junior Janae Fairbrook joined Craig on the All-Delta League First Team. St. Francis was represented by five players on the second team, including Marlee Nicolos, Jackie Koerwitz, Angie Ortiz, Aliyah Williams and Julia Razo.
St. Francis senior Lauren Craig was among the six athletes featured in the Faces in the Crowd segment of this week's edition of Sports Illustrated. TNT Sideline reporter Craig Sager is on the cover of the May 2, 2016 edition.
Three players committed to play basketball in college: Craig (Pepperdine), Tia Hay (Colorado State) and Huffman (Knox College).
Individual Honors
Prep2Preps All-State
Lauren Craig (Nominee)
Tia Hay (Nominee)
NorCalPreps.com
Lauren Craig (All-Nor Cal Second Team)
Sacramento Bee All-Metro
Lauren Craig (First Team)
Kyra Huffman (Honorable Mention)
Janae Fairbrook (Honorable Mention)
Tia Hay (Honorable Mention)
All-Delta League
Lauren Craig (Player of the Year, First Team)
Kyra Huffman (First Team)
Janae Fairbrook (First Team)
Marlee Nicolos (Second Team)
Jackie Koerwitz (Second Team)
Angie Oritz (Second Team)
Aliyah Willaims (Second Team)
Julia Razo (Second Team)
Vic Pitton (Coach of the Year)
Optimist Game
Lauren Craig (South Team)
Tia Hay (South Team)
CIF State Championships – Pursuing Victory with Honor
NorCal Championships – Pursuing Victory with Honor
Sac-Joaquin Section Championships – Pursuing Victory with Honor
Sports Illustrated Faces in the Crowd
Lauren Craig (May 2, 2016)
Varsity Basketball Awards
Comeback Player of the Year - Kyra Huffman
Most Improved Player - Aliyah Williams
Record 3-Point Shooter - Janae Fairbrook
Most Inspirational Player - Tia Hay
Rookie of the Year - Jackie Koerwitz
Competitor of the Year - Marlee Nicolos
Violinist of the Year - Rica Baccay
Coaches' Award - Angie Ortiz
Sixth Man of the Year – Julia Razo
JV Basketball Awards
Offensive Player of the Year - Jorie Keitges
Defensive Player of the Year – Ally Gage
Most Inspirational - Anne McDaniel
Coaches' Award - Morgan Kaeser
Freshman Basketball Awards
Coaches' Award - Gabi Lopez
Offensive Player of the Year - Krysta Alvarez
Defensive Player of the Year - Lily McLoughlin
Assist Leader – Brynne Burrows
Top Rebounder - Sydney Galvan