2015 Diving Season Highlights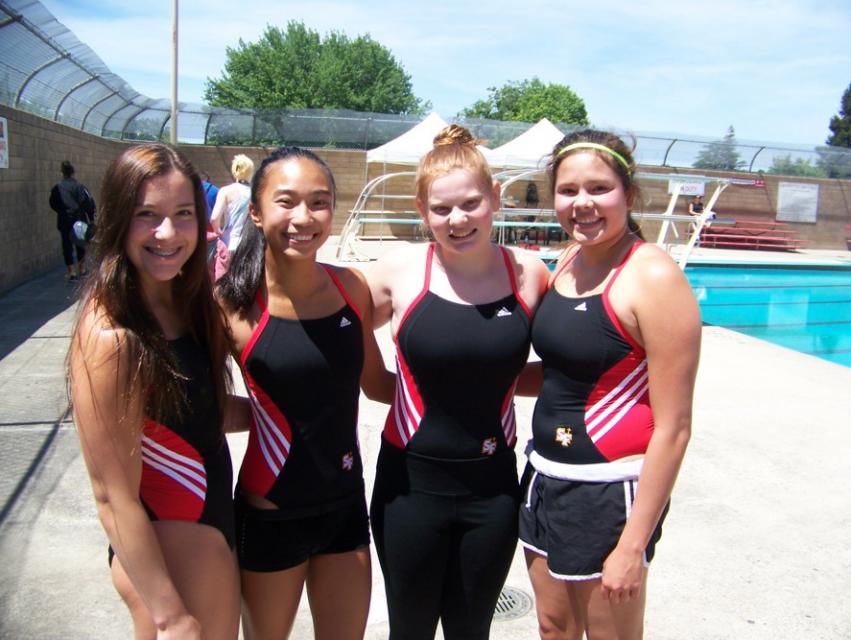 Freshman Julia Coss competed at the first CIF State Swimming and Diving Championships held at Clovis West High School and finished 22nd overall.
Coss finished third and earned a berth in the first CIF State Diving Championships to be held May 22 at Clovis West High School. She was one of five divers who competed at the Sac-Joaquin Section finals Saturday at Buchanan High School, the most of any school in the section. Coss was the only freshman in the field after qualifying at the trials and finished second at the Delta League Championships to teammate Tiffany Wong.
Coss scored a total of 384.35 to finish third behind Mikeala Lujan of Nevada Union (483.55) and Madison Ice of Bella Vista (390.95). Wong, the Delta League individual champion, was eighth overall with a score of 356.30. Sullivan placed 11th overall with a score of 323.95.
Junior Tiffany Wong won the Delta League diving competition with a personal-best winning total of 468.00 for her 11-dive total as St. Francis swept the top four spots in the varsity competition. She earned All-Delta League for her performance.
The Diving team recognized freshman Julia Coss as the MVP, while Quinn Ruggles was the winner of the Coaches Award. Molly Wilson was named the Most Improved.
Sullivan signed to dive at UC San Diego.
Individual Honors
All-Delta League
Banquet Honors
Julia Coss (MVP)
Quinn Ruggles (Coaches Award)
Molly Wilson (Most Improved)