2015 Swimming Highlights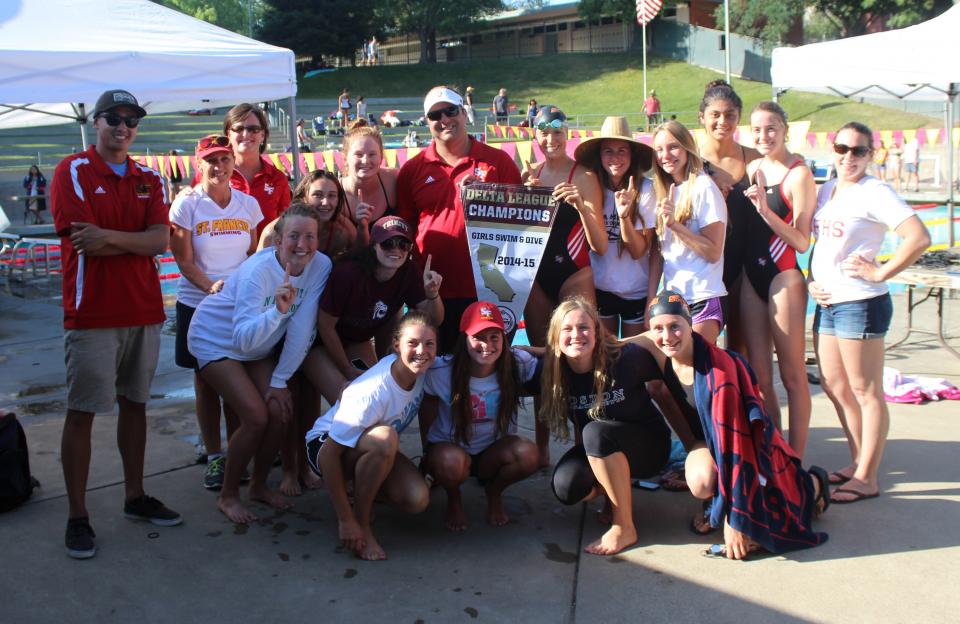 Juniors Emily Peters and Chloe Mitchell both qualified for the first CIF State Championships and the St. Francis swimming team placed fourth overall in the varsity meet at the Sac-Joaquin Section Swimming Championships held at Tokay High School.
Peters swam in the 50-meter freestyle and clocked a time of 24.24 to finish 22nd overall.
Peters qualified to swim at the first CIF state championships in the 50 freestyle after her sixth-place finish in time of 24.29. Mitchell swam a personal-best in the 500 freestyle for the second straight race, finishing fourth with a time of 4:56.05. The time was an automatic qualifier for the state.
Four student-athletes qualified in two events each including Erin Crooks (200 IM and 100 Fly), Katie McIntee (200 Free, 100 Free), Chloe Mitchell (100 Free, 500 Free) and Emily Peters (50 Free, 100 Free). Kristen Lance (100 Breast), Elizabeth Fugit (200 Free) and Tatum Roepkie (100 Fly) were among the other varsity finalists. All three Troubadours relays also advanced including a second-place finish by the 400-freestyle relay team.
Sac-Joaquin Section Varsity Individual Finalists: 200 Free Consolation Final – 2. Chloe Mitchell, 1:53.60; 3. Katie McIntee, 1:53.64, 15. 8. Elizabeth Fugit, 1:58.95; 200 IM Consolation Final – 11. Erin Crooks, 2:12.33; 50 Free – 6. Emily Peters, 24.29; 100 Fly Consolation Final – 7. Erin Crooks, 58.51, 8. Tatum Roepke, 1:00.65; 100 Free Final – 5. Katie McIntee, 53.00; 100 Free Consolation Final– 2. Emily Peters, 53.84; 500 Free Final – 4. Chloe Mitchell, 4:56.05; 100 Breast Consolation Final– 16. Kristen Lance, 1:09.83.
St. Francis won its league title for the seventh consecutive season and first in the new Delta League. The Troubadour team, which started 130 student-athletes in the meet, showed its depth across the meet and different disciplines, placing at least three swimmers in each championship final and scoring 37 top-16 spots.
The Troubadours claimed two individual varsity titles and recorded 33 top-eight finishes. Senior Chloe Mitchell won two events, earning All-Delta League honors in both the 200- and 500-yard freestyle events.
Two swimmers signed to compete in college next fall, including Erin Crooks (Trinity) and Kristen Lance (Loyola Marymount).
Senior Erin Crooks posted two top-five finishes and swam on a pair of relays to help St. Francis to a second-place finish at the 2015 NorCal Swimming Championships held at the Roseville Aquatic Center. St. Francis finished with 312 points to place behind only Granite Bay as the Troubadours recorded 23 top-16 performances, including 12 in the top eight.
The varsity swimming honorees for most valuable swimmer included Erin Crooks, Chloe Mitchell, Elizabeth Fugit, Katie McIntee, Emily Peters and Tatum Roepke. The Junior varsity selections for most valuable swimmer were Emily Bartyla, Audrey Camarillo, Samantha Gates, Fiona Dodson, Taylor Koewler and Kayla Wehner. Head Coach Richard Levin also recognized four swimmers with Most Improved including Sydney Lewis, Erin Wilson, Audrey Cooper and Dawn Nguyen.
Amayna Barnes was received the Spirit Award. Senior Cami Cunningham was named the Most Inspirational and Kristen Lance received the Delta League Sportsmanship Award.
All-Delta League
River Cats All-City Team
Varsity Most Valuable Swimmer
Erin Crooks
Chloe Mitchell
Elizabeth Fugit
Katie McIntee
Emily Peters
Tatum Ropeke
Spirit Award
Most Inspirational
Delta League Sportsmanship Award
Junior Varsity Most Valuable Swimmer
Emily Bartyla
Audrey Camarillo
Fiona Dodson
Samantha Gates
Taylor Koewler
Kayla Wehner