2016 Volleyball Highlights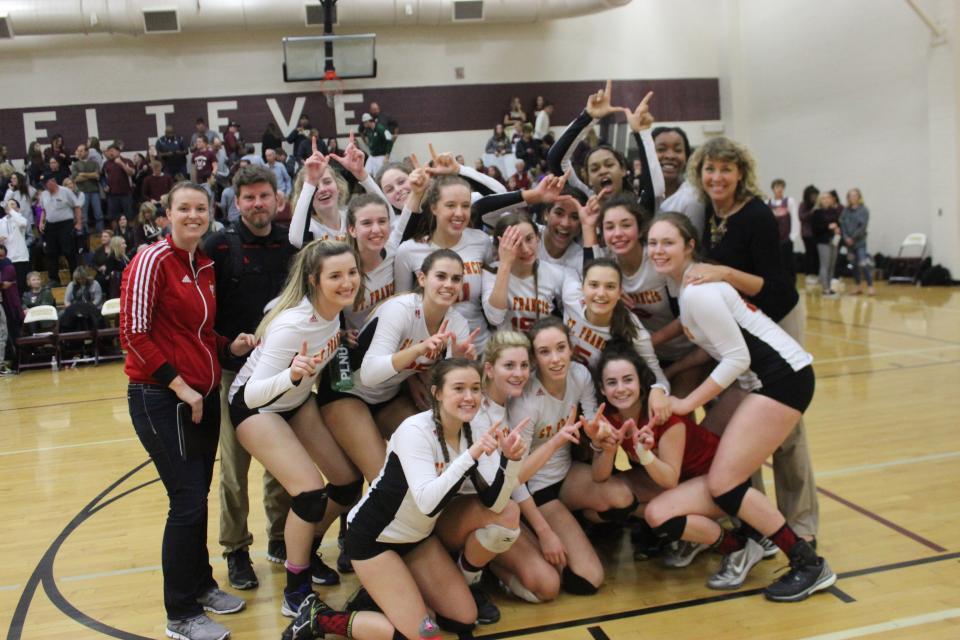 St. Francis advanced to the CIF Northern California Regional semifinals before losing to eventual state champion Valley Christian in the Division II bracket. The sixth-seeded Troubadours upset No. 3 seed Whitney in the quarterfinals to advance. SF also defeated No. 11 Windsor.
St. Francis advanced to the Sac-Joaquin Section semifinals before losing to eventual section champion Whitney. The Troubies were the No. 5 seed and defeated Vintage and Del Oro in the first two rounds.
The Troubadours finished with a 29-17 record under Head Coach Alynn Wright, who coached her 28th season at St. Francis. SF was third in the Delta League with an 11-3 overall record.
Alynn Wright was named the Delta League Coach of the Year by her colleagues. It is the 15th League Coach of the Year honor in her career.
Four St. Francis volleyball players earned Delta All-League honors in 2016 as voted by the league coaches. Seniors Claire Barbe and Claire Schutz joined junior Aiyu Aimufua and freshman Alexa Edwards on the all-league team. It was the second career honor for Schutz.
Claire Barbe and Claire Schutz were selected to play in the Optimist All-Star Game.
The Troubadours had four players with 200 or more kills. Edwards led the team with 526 kills, while Schutz finished the season with a career-best 301 kills. Barbe added 239 kills and Aimufua had a career-best 206. Edwards also led the team in digs with 425. Madelyn Schildmeyer recorded 953 assists and Aimufua record the most blocks (106).
St. Francis lost in the consolation final of the Super 8 Invitational to Granite Bay. Whitney defeated Campolindo in the final. The Troubies were third at the Chris Craft Invitational in Stockton
St. Francis battled five sets before falling to Christian Brothers in front of a sold out crowd in the annual Holy Court matchup.
St. Ignatius won the PAL Tournament title.
Individual Honors
All-Delta League
Aiyu Aimufua
Claire Barbe
Alexa Edwards
Claire Schutz
Optimist All-Star Game
Claire Barbe
Claire Schutz