Alumna Beth Balbierz '11 Making Impact on the Sideline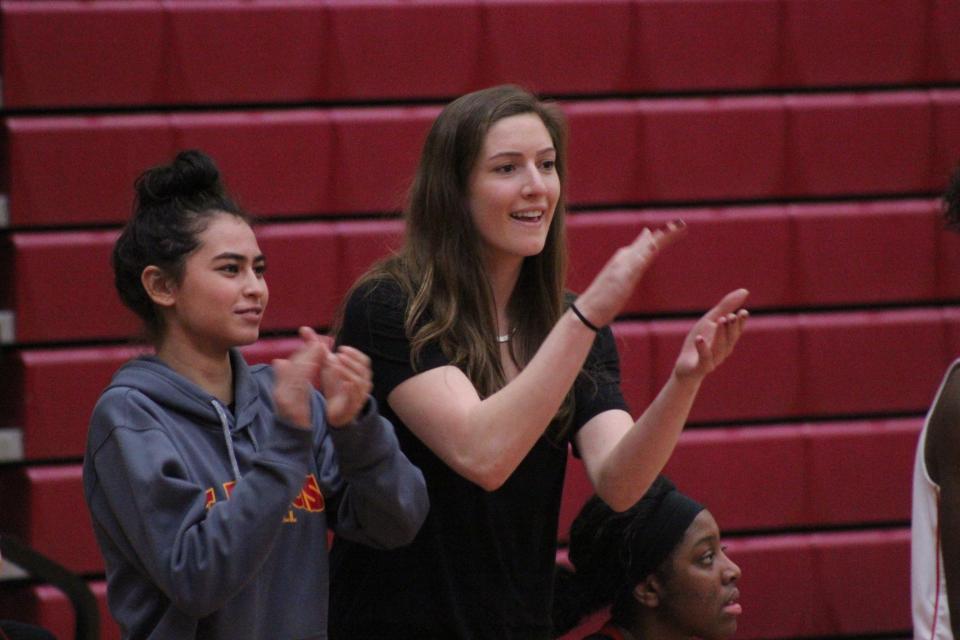 SACRAMENTO, Calif. – Coaches can be role models for their players in many ways. Alumna Beth Balbierz '11 is not only a former player at St. Francis but Division I starter at Cal Poly and now she is passing on her program and basketball knowledge to the players on the Junior Varsity team.
"It is fun but different," said Balbierz. "There is more anxiety on this side of the ball as I have learned. The girls are really smart players so it is easy to coach them. They catch on quickly."
Balbierz joins the basketball coaching staff after a standout career at St. Francis. She averaged 8.5 points, 3.5 rebounds and five steals as a senior, helping the team to a 26-7 record and a league title.
She started her career at Cal Poly as a walkon and finished her senior year starting all 31 games and earning All-Big Sky honorable mention honors.
"The friendships (at Cal Poly) I made are the best," said Balbierz. "I have some lifelong friendships that I made playing from my freshman to my senior year of all different ages. I still keep in contact with over half of teammates from college."
Balbierz scored in double figures 23 times during her senior season and was one of the conference's top three-point shooters and ranked in the Top 70 in the country. The experience has helped make her transition to the sideline very smooth.
"She brings great character," said JV Head Coach Gary Ender. "Having played at St. Francis and also Division I basketball allows her to point out to the players and demonstrate them in practice. She gets out and shows them. There is nothing better than to be able to show them as a coach what we are looking for. It helps them continue to learn."
Balbierz has teamed with Ender to coach the JV to a perfect 18-0 record this season, highlighted by a double overtime win over Antelope on Jan. 14.
"I enjoy games like this where they actually get to play to a high level," said Balbierz of the Antelope win. "I like watching them in this atmosphere where they are pushed. They have to think on their feet and they learn. They are always fun."
The players are enjoying playing under the former Troubie.
"She has helped so much with her being a player coached by Gary and Vic is a great perspective to have," said sophomore Krysta Alvarez after the Antelope win. "She calms us down and she tells us what to do at the right times. Today she pulled me aside to have us run down the clock. I am so thankful for her to come back and be our coach."
Balbierz is working full-time in Sacramento while applying for nursing school.
"Not a whole lot has changed, I am not going to lie," said Balbierz. "It is a different role. I am not sure it is not weirder for him (Coach Ender) than it is for me. It is different as a colleague. He coaches the same way he did 8-9 years ago."
She looks back on her time at St. Francis fondly while adding to her SF memories in her new role this season. Balbierz and the Troubadours continue play on Tuesday against Grant.