Alumnae Miranda Myers and Lauren LaRocco Make Hometown Returns
LaRocco Qualifies for NCAA Championships in the 10,000 Meters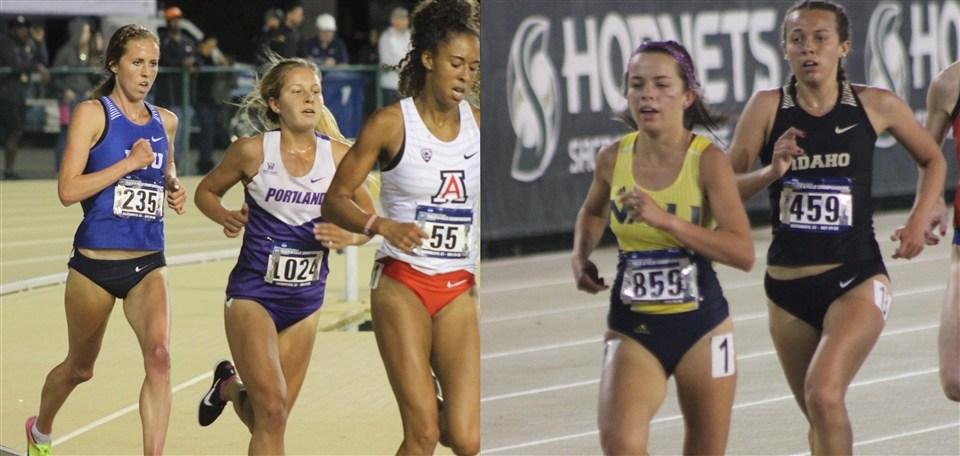 SACRAMENTO, Calif. – The public address announcer at Hornet Stadium recognized the hometown returns of St. Francis alumnae Miranda Myers '15 and Lauren LaRocco '14 before reach raced for their respective schools at the NCAA Track and Field West Preliminary Saturday night at Hornet Stadium.
"It definitely helped hearing I was a local athlete and made me feel at home," said Myers, a junior at Northern Arizona. "It brought back memories when I was in high school and I had everyone here supporting me. It was really nice."
Myers ran in the first heat of the 5000 meters and finished 33rd in the field of 48.
"It was good," said Myers, who had a large group of family and friends cheering for her. "The main thing was to go out and see how many people I could beat. I did not worry about time or my ranking coming in (47th). I just tried to compete and keep everyone in the field as the same. It was hard and just tried to race the people in front of me."
She ran a personal-best 16:25.21 to close out her season. The top 12 in the event advanced to the NCAA Championships to be held at the University of Oregon.
"To finish off the season feeling good and getting a PR was the perfect way to end the season," said Myers, who plans to redshirt next season. "(When I come back) I want to see what the highest meet I can get to. Hopefully it is nationals."
LaRocco competed in the second heat of the 5000 meters looking to add to her schedule at the NCAA Championships. She had previously qualified for the NCAAs on Thursday in the 10,000 meters, an event she was an All-American in 2016.
"I am finally getting back into shape at the right time," said LaRocco, who also earned All-American honors in the 5K as a sophomore. "I was a little underprepared for the 10K and thought it would start a little slower. It was honest from the gun and it was a curveball for me. It was survive and advance and save energy for the 5K. I still ran a pretty fast time in the 10K."
LaRocco, who was 11th in the 10K in 32:58.05, was 21st overall on Saturday in the 5K, posting a time of 16:09.22. She battled an injury earlier this season and took two months off but feels that she getting back to her top form now.
"My legs were a little tired and I got stuck in a pack," said LaRocco of her race on Saturday. "I am looking forward to the 10K at nationals. It is my strongest event. I am thankful to be healthy and competing."
LaRocco's twin brother graduated from the University of San Diego this week splitting her cheering section. Her mom was still able to fly back and forth for both her races this week. But she still felt the support from the Sacramento crowd.
"I love Sacramento and as soon as we landed I started getting excited," said LaRocco. "My brother is graduating from USD this weekend so most of my family is there. But I really heard my name around the track in both races. There was definitely a lot of support despite my family not being here. It has been really nice to be on a home track."
LaRocco still has eligibility for cross country and track and field next year but she has already graduated from Portland with Bachelor of Science in Mechanical Engineering and will start her Master's in Biomedical Engineering.
"I looking forward to focusing on running my last year," said LaRocco.
After NCAAs, she will participate in the West Coast Conference Student-Athlete Advisory Committee Conference at BYU. She served as the President of the group this year at Portland.
Myers, who will return in 2019, is happy with her season for the Lumberjacks.
"It was awesome coming back winning Big Skys with my team," said Myers, who has been part of seven conference titles in her career. "To do it with the guys (who swept all three titles) and walk out with a medal in the 10K was great. I got to compete at some big meets – Peyton Jordan and Stanford Invite. It was fun to get some experience."