Alumnae Post Top Performances at NCAA West Regional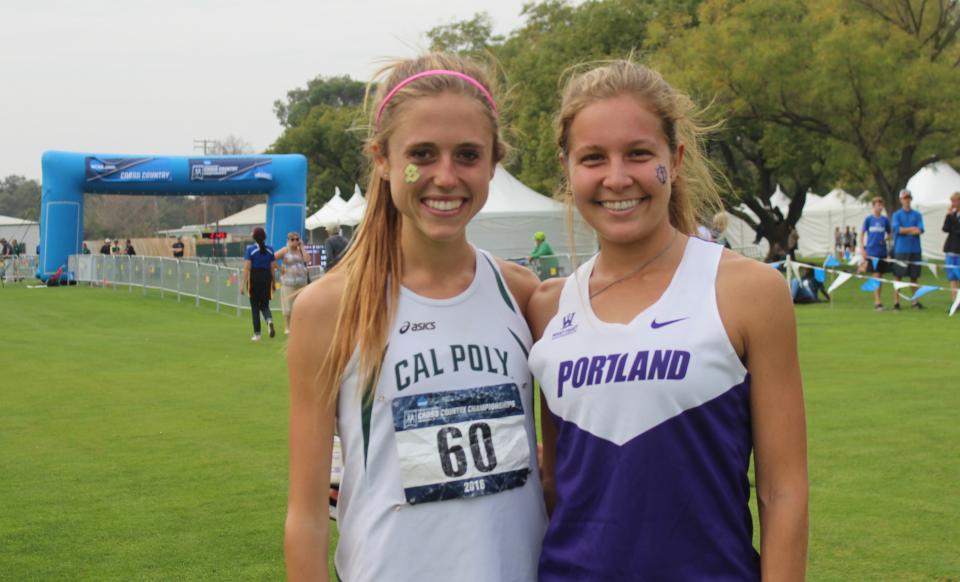 SACRAMENTO, Calif. – St. Francis alumnae Lauren LaRocco '14 and Peyton Bilo '15 had successful returns to Sacramento at the NCAA West Regional on Friday morning.
"It was really fun because there were people lining the course everywhere," said Portland junior Lauren LaRocco. "I was really surprised by the turnout and I felt like I had a lot of support running in my hometown."
LaRocco, who earned a pair of All-American honors on the track last spring, finished fourth overall in 19:42.8 helping her team to a fifth-place finish. The Pilots will be an at-large candidate for the NCAA Championships.
"It was really awesome," said LaRocco. "The weather is so different than Portland. Yesterday was like a heat shock but it was pretty perfect today. It was good to be back."
Bilo was ninth in 19:45.9 as Cal Poly placed 10th overall. After qualifying for the NCAA meet last year, Bilo hopes to earn a second consecutive berth when the field is announced on Monday.
"I felt good about it," said Bilo. "I wanted to get out and stay as controlled as possible. The race went out a little slower than I expected so it was nice to be relaxed at the beginning. I wanted to have a strong finish for my team today."
Bilo fell at the 1K mark but was quickly back on her feet with the help of a teammate. She found herself side-by-side with LaRocco coming down the stretch at the Haggin Oaks Golf Course.
"It is so great," said Bilo. "I love racing with Lauren. She ran an awesome race today and it is so comforting to have her out there with me."
Both runners entered the meet coming off victories at their respective conference meets. Bilo, who is from El Dorado Hills, won the Big West title and was named the Women's Athlete of the Year.
"Honestly it is kinda surreal," said Bilo of her collegiate success. "I am still processing everything as it goes. I am so thankful to finally be healthy consistently and running. I love the sport so much and I could not be more thankful that it is going well. I have an amazing team and an amazing family that has been so supportive. They have been at every race this season. It makes it so much more enjoyable and fun."
LaRocco won the West Coast Conference title in San Diego and earned All-WCC first-team honors.
"It is so awesome and it is like old times," said LaRocco of racing with Bilo. "It makes us so much more relaxed and comfortable."
Several current Troubadours came out to support the St. Francis alumnae.
"It is so great to be back in Sacramento," said Bilo. "Coming out and seeing all you guys (the St. Francis contingent) here and my family makes me feel at home and makes it that much sweeter."
The NCAA Cross Country Championships are scheduled for Nov. 19 in Terre Haute, Ind.