Basketball Player Razo Signs with Dominican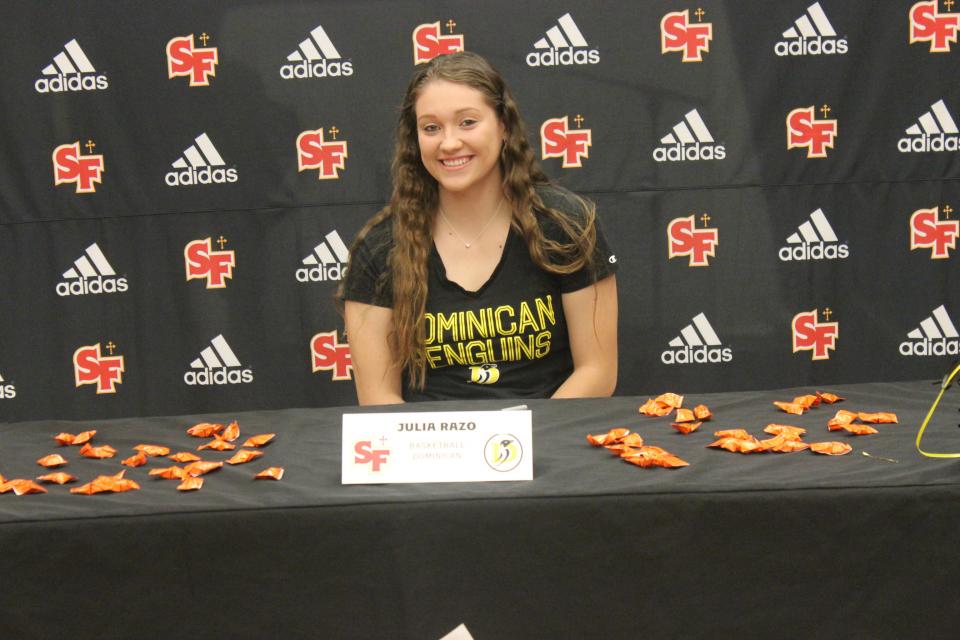 SACRAMENTO, Calif. – St. Francis senior basketball player Julia Razo will continue her basketball career at Dominican University in San Rafael.
"I am really grateful for it and I was not expecting it," said Razo. "I am really excited for a new beginning. It has always been a goal to play in college so I am glad I got it."
Razo led the Troubadours in scoring this season, averaging a career-best 14.8 points and 4.9 rebounds. She was a Delta League first-team selection and was named to the River Cats All-City team. She was a Sacramento Bee All-Metro third-team selection.
"She worked so hard on her game, developing an inside, outside and mid-range game, said Head Coach Vic Pitton. "The thing I will remember most about Julia was her ability to be able to use the sport and compartmentalize to free herself from the problems in her life and focus on basketball."
Razo will play for Tim LaKose, who is in his third season at the helm of the Penguin program.
"I like the location a lot and everyone was really welcoming and friendly,' said Razo. "The coach is easy to talk to and it felt like home when I was talking to him in his office."
She is starting off undecided but has an interest in health science or international relations.
Razo helped herself by reaching out to the coach, who followed by watching her play in a showcase event. He then called and told her she would look good in black and gold.
"It was definitely a long process and journey throughout this whole year," said Razo. "I kept working and finally got an offer. I enjoyed everything about it."
Razo moved up the varsity team during her freshman season and showed improved throughout her career until her dominant senior season.
"Early on Julia was a baller and she worked on her game," said Pitton. "She did not have the confidence to play at the level we saw for her. She came up as a freshman and played as a sophomore and junior. But it was the latter part of her junior season when we were making our state championship run where we saw her potential. You could see she was a top level player and it carried over to this season. She had a fantastic season."
She helped the Troubadours reach the state championship as a junior, scoring 6.4 points per game. Then, she scored in double figures as a senior 24 times and tallied a career-best 27 against rival Christian Brother and Monterey Trail.
"I was really confident my freshman and senior years," said Razo. "Sophomore and junior year I did not know what I was doing and it took a lot of work to get back to that point. I went at it my senior year."
She will miss the random moments and jokes with her teammates and playing for Coach Vic Pitton.
"He is very vocal and puts me in check," said Razo of her coach. "At the same time, he is very easy to talk to and a father figure watching over us. "
Razo was recognized at a ceremony after school on Friday in front of her coaches, family and friends.