Cross Country Places First at Subsections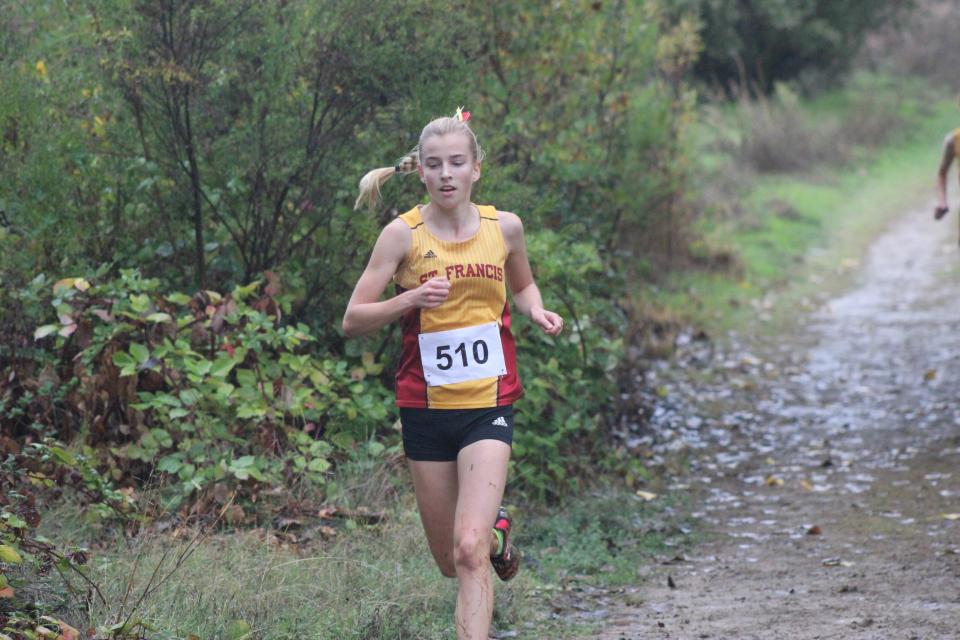 FROGTOWN, Calif. – The St. Francis cross country team won the Sac-Joaquin Subsection Division 2 meet to advance to the sections next week, scoring 67 points to defeat Vacaville (84).
Freshman Isabella Fauria and junior Sydney Vandegrift paced the team, finishing in a virtual tie in eighth overall in 19:22. Sophomore Sophie DeBenedetti was the third Troubadour across the line (19:52) with freshman Haley Silva just four second back. Freshman classmate Emma Hollenbach was 21st overall. Alana Reyna (35th, 20:51) and Allie Lourim (46th, 21:12) closed out the varsity top seven.
The junior varsity team finished second overall with 65 points led by top 10 finishes by Samantha Tran (2nd, 21:25), Teresa Lee (4th, 21:31) and Erica Cradeur (6th, 21:35). The Frosh/Soph team won the Division 2 race over Granite Bay 51-93. Sophomore Cassidy Lourim was third (13:54) followed by sophomore Marie Pahos (5th, 14:03) and Noelle Lynch (8th, 14:19).
All three teams advanced to the run at the Sac-Joaquin Section meet on Saturday, Oct. 12 at Willow Hills in Folsom.
Sac-Joaquin Sub-Section Division 2
Team scores (Top 5): St. Francis 67, Vacaville 84, Granite Bay 139, Bella Vista 196, Whitney 211.
St. Francis results: 7. Isabella Fauria, 19:22; 8. Sydney Vandegrift, 19:22; 14. Sophie DeBenedetti, 19:52; 17. Haley Silva, 19:56; 21. Emma Hollenbach, 20:17; 35. Alana Reyna, 20:51; 46. Allie Lourim, 21:12.