Freshman Alexa Edwards Named to MaxPreps Freshman All-American Team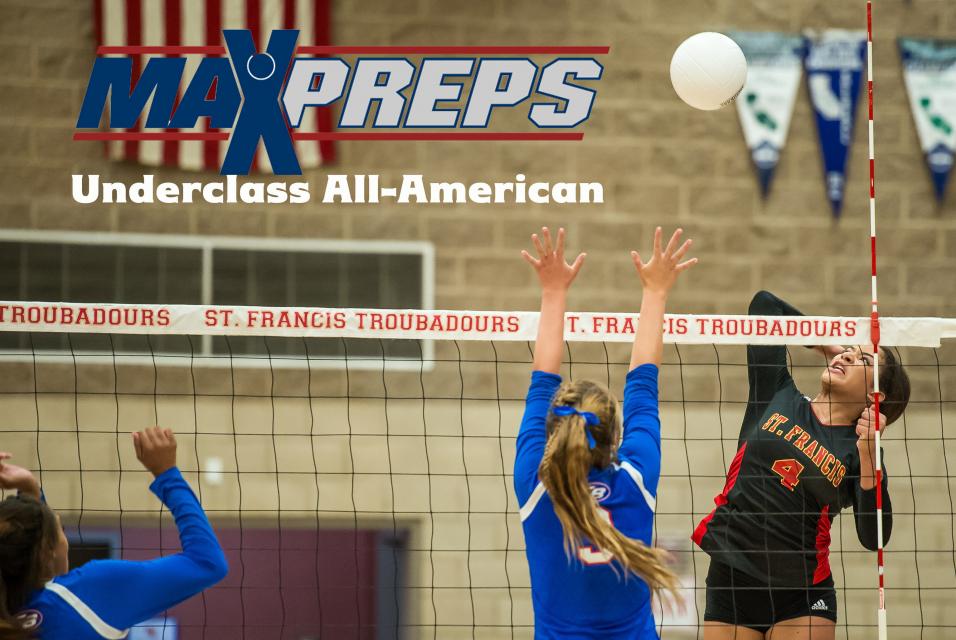 SACRAMENTO, Calif. – St. Francis freshman Alexa Edwards was named to the MaxPreps Freshman All-American Team. The 25-player team was announced on Wednesday.
"It is a tremendous honor to be named to this All-America team," said Edwards. "I am really thankful for (Head Coach) Alynn (Wright) for helping me develop this year. I am looking forward to the future."
Edwards averaged 4.1 kills per set and hit better than 24 percent on the season. She led the team with 526 kills and digs with 425. She was named to the Delta League first team.
"I feel like I got better from working hard with my teammates in practice and it really helped me become successful," said Edwards. "Alynn, Bill (Hanrahan) and Taryn (Wrght) really pushed me in practice."
Edwards was one of three players from the state of California on the freshmen team, joining outside hitter Jaylen Jordan from Sierra Canyon and Nalani Iosia from Redondo Union. The website announced All-America teams for each class.
St. Francis advanced to the CIF Northern California Regional semifinals before losing to eventual state champion Valley Christian in the Division II bracket. The sixth-seeded Troubadours upset No. 3 seed Whitney in the quarterfinals to advance. SF also defeated No. 11 Windsor. Edwards helped the Troubadours finish with a 29-17 record under Head Coach Alynn Wright, who coached her 28th season at St. Francis. SF was third in the Delta League with an 11-3 overall record.