Giving Back: Alumnae Help Troubadours to State Title Game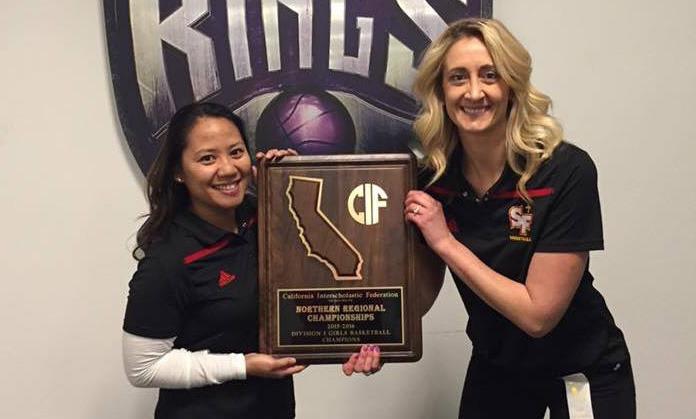 SACRAMENTO, Calif. – St. Francis Alumnae Sole Montemayor '01 and Maren (Martinelli) Christie '00 are both assistants on the basketball staff and played for Head Coach Vic Pitton during their days on campus. They have played a big role in helping the current team reach the CIF Division I Championship game on Thursday.
"They bring a great deal of basketball knowledge and they were excellent players when they played," said Pitton. "Both were leaders on the court and in the locker room. As far as the experience of being at St. Francis Troubadour, knowing the history and culture of the school, they can really explain to the girls looking back on their experiences as adults."
Montemayor and Christie are part of a talented coaching staff that includes Ron Blanchette, a local dentist and St. Francis parent (Dominque '08, Gabby '12), and current faculty member Bobby Williams (Theology).
"They bring a great deal of enthusiasm," said Pitton. "They bring a great deal of heart and they want the best for these girls because they had a great experience here and they want the same for these young ladies."
Freshman Jackie Koerwitz has learned a lot from her Troubie coaches.
"It definitely helps experience-wise," said Koerwitz. "Having Maren and Sole tell us precautions we should take. I have learned a lot from Sole, she has taught me how to use my speed, and Maren has taught me how to use my length. So they both have helped me a lot."
Maren and Sole played together and helped the team to a league title in 2000.
"I am excited, very excited to watch this team," said Montemayor. "They are a special bunch and to coach them this far is wonderful to watch as a team."
Montemayor went on to play two seasons at Sacramento City College. After taking a year off, she finished her playing career at Alderson Broaddus University in Philippi, West Virginia. She earned a degree in nursing and works in health care in Sacramento..
"I am super excited" said Christie. "They have overcome so many obstacles together as a team this year. To see them reach their full potential as a team is so satisfying as a coach and exciting to be part of it."
Christie graduated from UC-Berkeley and currently part of the corporate counsel at VSP.
"To coach with Sole, my point guard from high school, and with my former coach is exciting and interesting to see things from another perspective," said Christie. "I have definitely grown as a person seeing both sides. It is a unique opportunity for the girls to relate to Sole and myself because we have been there."
"This is my fifth year, I learn so much from Coach Vic (Pitton)," said Montemayor. "Coming from the school and being an alumna, you build a camaraderie and a bond you will have forever."
Troubies for life and hopefully state champions on Thursday.