Hennessy Breaks 300m Hurdles Record at MOC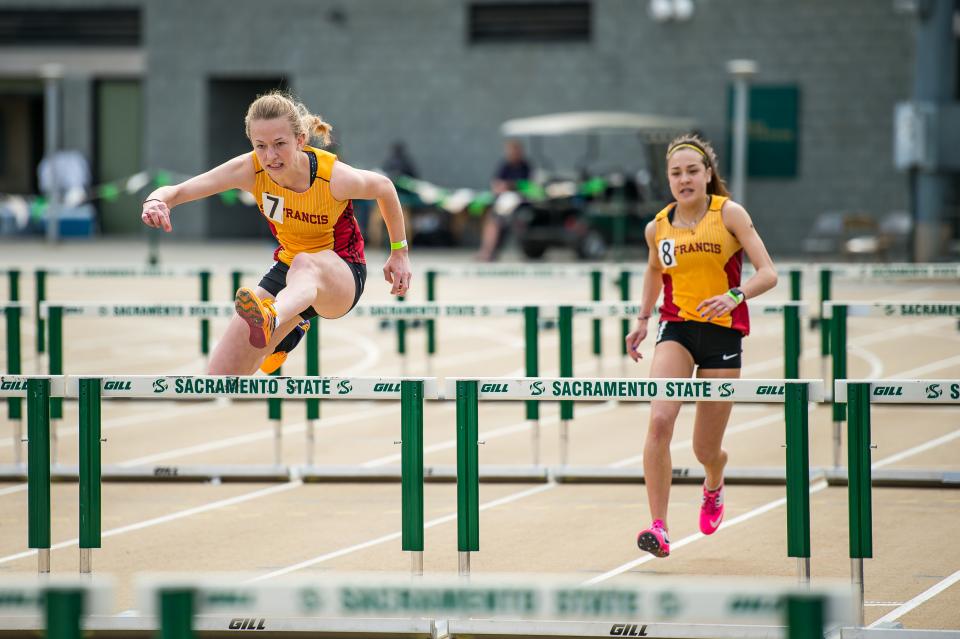 SACRAMENTO, Calif. - Senior Elizabeth Hennessy broke the school record in the 300-meter hurdles Saturday, clocking a 43.91 at the Meet of Champions at American River College. She broke the mark of 44.17 by Amanda Schnabel in 2013, improving on her personal-best of 44.37.
Hennessy also paired with teammates Meaghan Rogers, Alyssa Shebert and Isabelle Grassel to finish seventh in the 4×100-meter relay in 49.01. Rogers was 11th in the 200 meters in a personal-best 25.57 (sixth-best in school history) and placed sixth in the 100 meters in a personal-best 12.45 (fourth-best in school history). Rogers also finished 16th in the long jump with a best of 15-8.75.
Other top performances at the meet included Yahsmeene Duffy finishing ninth in the 300m hurdles with a personal-best 46.98, the seventh-best time in school history. Meghan Ladd was ninth in the pole vault. DeBenedetti was ninth in the 800 meters in 2:23.06.
Sydney Vandegrift ran a personal-best 4:59.50 to finish fourth in the 1600 and post the second fastest time in school history. DeBenedetti was 15th in a personal-best 5:11.14.