Senior Swimmer Fugit Returns to Pool at Section Trials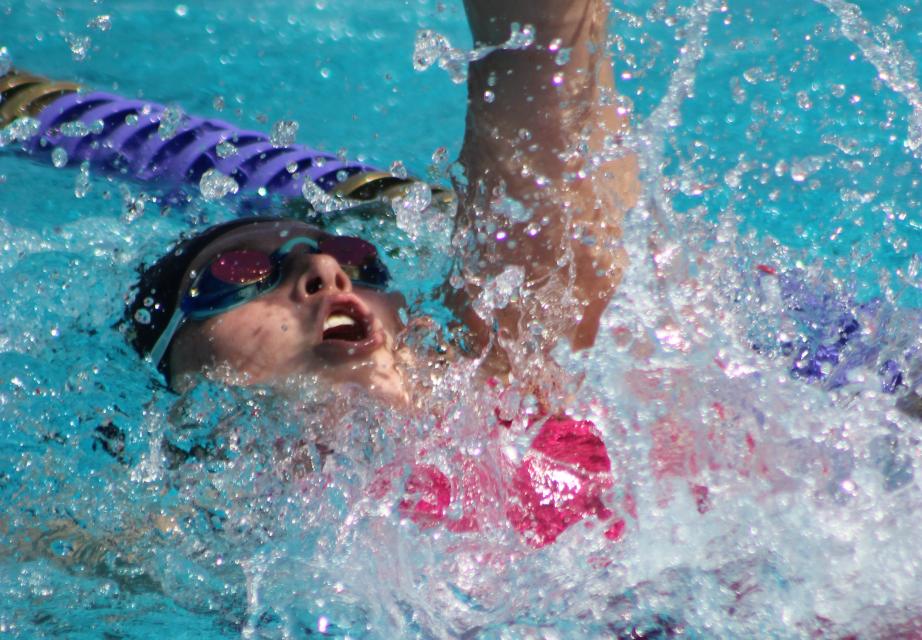 LODI, Calif. – Senior Elizabeth Fugit had everything going right for her. She was accepted to the U.S. Naval Academy and was having the senior season at St. Francis she had hoped for. She had worked hard to post the times in the pool that aligned with her senior goals with a strong showing at the section meet in her future. Then everything changed.
Within hours she was in the hospital having her appendix out. Time in the pool was done and time spent with her friends on the swimming team was over. With league championships ahead, she was out and watching from the pool deck.
"It was a bummer knowing I was going to miss a good month of my last high school season," said Fugit.
Head coach Richard Levin, who has coached her since she was nine years old, was doubtful she would get in the pool again for the Troubadours.
"Originally when she went out with the appendicitis, in my mind I did not think she should swim," said Head Coach Richard Levin.
She was out for two and half weeks. But she wanted to get back in the pool. She started slowly with a week of kicking.
"It was frustrating watching everyone go by me," said Fugit. "But then it got better. I missed being at practice with all my friends and I had these goals all season I was going to get."
While the lost time would likely affect her conditioning, and thus, her times, she was determined to get back.
"When I was doing the section entries, she said she was going for it," said Levin. "She has the (qualifying) times and it is hers to give up. The fact she wanted to do it, regardless of the result today, we are honored to have her represent our school."
On Thursday she joined her team at the Sac-Joaquin Section Championships at Tokay High School. She swam on the St. Francis 200 individual medley and 400 freestyle relays and her two individual events, the 100 butterfly and 100 backstroke.
"My times were not going to be where I wanted them to be but as long as I was going to practice and pushing myself," said Fugit of her preparation. "For a while, I was not looking at the scoreboard. I was going to get in, swim my race and have all my friends cheering for me and have fun."
She did just that – had fun. She finished 26th in the 100 butterfly in 1:00.96 and 21st in the 100 backstroke in 1:02.43.
"All things considered I was pretty proud of myself," said Fugit. "I was really shocked with the 100 fly. I only added a second."
Coach Levin was beaming with pride after the meet.
"I have had the chance to coach her first hand since she was five," said Levin. "To see this meet as a culmination of her swimming career and to have the ability to coach her is an honor. I have seen her grow up in front of my eyes."
She has a few more swims left in her career on Saturday in the relay finals, but she had passed the test of her return with the same determination she had shown her whole career.
"I told her I will be sheading some tears at the Grad Party," said Levin. "This is the icing on the cake for her to be able to come back."
Now she has another challenge in front of her at the U.S. Naval Academy.
"I am so excited," said Fugit. "It is definitely going to be a challenge physically. I really love working out and being in shape. I have to get better at running because I am not good right now. Being surrounded by so many intelligent people from all over the country is going to be awesome. I am honored to be attending."
We have been honored to have you as a Troubie.
Note: Fugit will join two teammates on the River Cats All-City team and be honored at a game on May 21.