Softball Wins Key League Game on Senior Night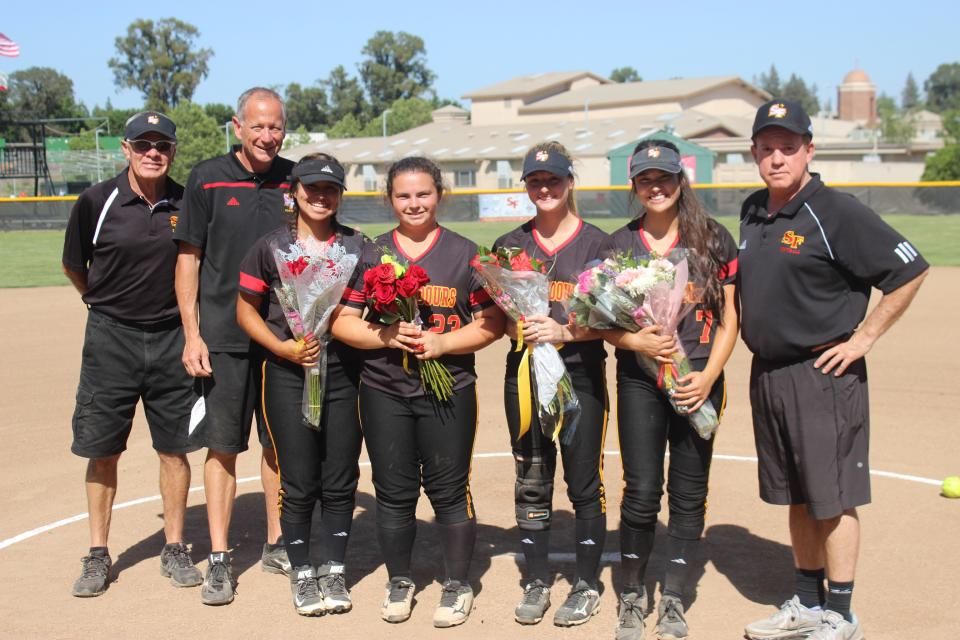 SACRAMENTO, Calif. – Sophomore Chloe Smith went 3-for-4 with three runs scored and three RBI with a double and home run to pace St. Francis to an 11-7 win versus Franklin Monday.
"I was thinking line drive to get something going," said Smith. "We were making contact with the ball but we were hitting right at people."
Smith's third inning home run gave St. Francis a 2-1 lead and sparked a five-run inning to take control of the game.
Caitlin Caldwell started and allowed two runs on seven hits over 3.1 innings. Senior Jada Kanemasu relieved her in the fourth in the circle, throwing the final 3.2 innings.
"I felt amazing," said Kanemasu. "It was really important to me to get on the field for senior night. To have the last pitch end my last home game was important to me. My team was amazing tonight. I am very proud of them."
Rhyann O'Mara went 3-for-4 in her final appearance at Schuster Field, while classmate Lauren Washburn went 2-for-3 to aid the offensive effort. Senior Ari Avila also made an appearance as a pinch runner and scored a run.
"We started off a little shaky but we got comfortable," said Washburn. "We came out strong and adjusted to the pitcher as she slowed down. We were able to take it up the middle most of the game."
The Troubies extended the lead to 7-2 with two runs in the fourth and added four insurance runs in the sixth that proved important as the Wildcats scored two two-out runs in the seventh.
"It feels great to be able to do it and have a last win here," said Washburn. "I was glad to have a good game myself."
St. Francis moved ahead of Franklin in the standings for the final playoff spot with one game remaining on Tuesday against Monterey Trail.
"I t means a lot," said Smith. "I am here to win and I want to go all the way. I believe this team will go all the way."
| St. Francis 11, Franklin 7 | 1 | 2 | 3 | 4 | 5 | 6 | 7 | R | H | E |
| --- | --- | --- | --- | --- | --- | --- | --- | --- | --- | --- |
| Franklin | 0 | 0 | 1 | 1 | 3 | 0 | 2 | 7 | 15 | 3 |
| St. Francis | 0 | 0 | 5 | 2 | 0 | 4 | x | 11 | 12 | 1 |