Sophomore Isabelle Grassel Finishes 11th in Long Jump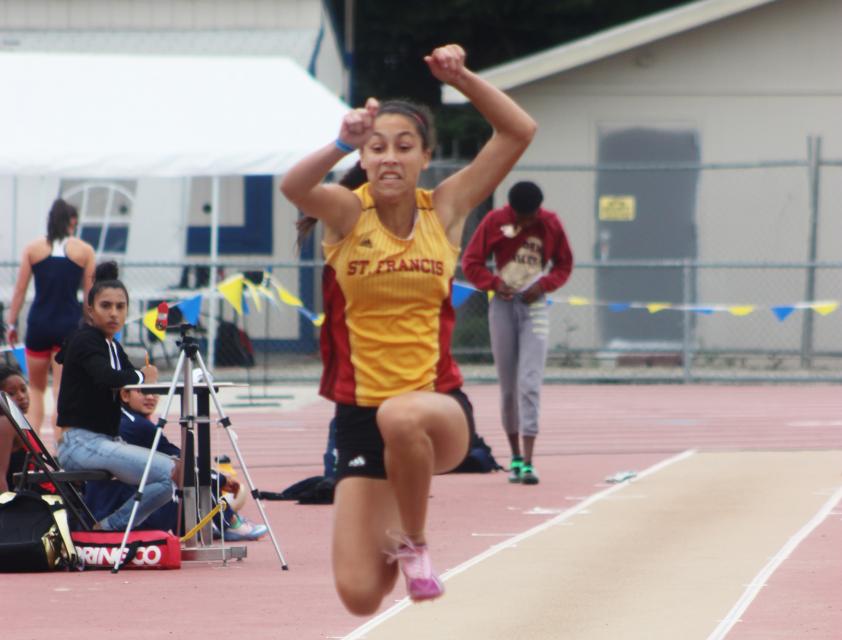 ELK GROVE, Calif. – Sophomore Isabelle Grassel has been flying far lately, resulting in a berth in the Sac-Joaquin Section Masters meet. But she almost never started taking off.
"I was not jumping what I wanted to earlier in the season,' said Grassel. "I was thinking about quitting (jumping). I finally got what I wanted at Delta and made it to sections. You have to never give up. When your season is not going as you wanted it to, you can't give up. You have to keep going because it could change."
She finished 11th today and was the second-best sophomore in the section with a leap of 17-0.25.
"My steps were off in the beginning but I am glad I got to jump 17-0 today," said Grassel.
Grassel's first two jumps were 15-6.5 and 15-8 before posting her best jump of the meet at 17-0.25. The event featured eight student-athletes who hit the automatic qualification mark.
"They are all super good and really nice," said Grassel. "I had so much fun jumping with them, especially all the seniors. It was great to jump with them here at Masters."
Grassel had been trying to reach 16-0 feet all season and was frustrated with the event. She had a best of 15-11.75 in eight regular season meets. Then everything changed at the Delta League meet.
She finished third at the league meet with a jump of 16-6 to advance to sections. Then she finished fourth at sections with a best of 17-9.5, improving her best three times in four jumps. Two meets and two medals while finishing her season jumping for a berth to the state championship. It was quite a leap from just a few weeks ago.
"It was fun," said Grassel. "I did not think I was going to make it out of Delta Leagues. I was really glad I made it to Masters."
Grassel finishes her sophomore season with the school record for her class, breaking Nicole Spring's record set in 2014, and she is tied with Spring for third on the all-time list.
She also anchored the 4×100-meter relay later Friday to a fourth-place and another medal.