Sophomore Isabelle Palchak Wins High Jump at Section Meet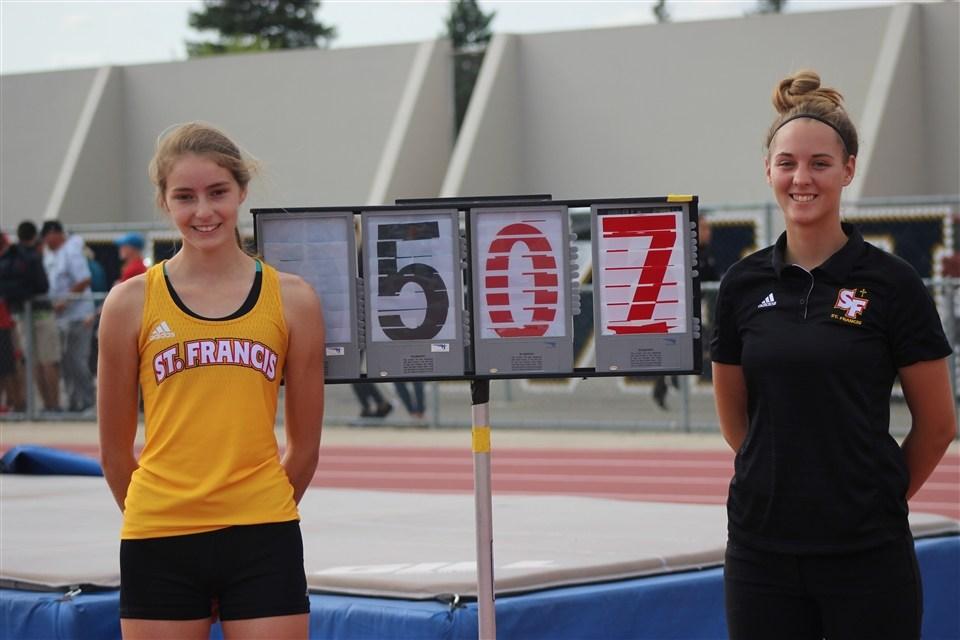 ELK GROVE, Calif. – Sophomore Isabella Palchak won the Sac-Joaquin Section high jump title Wednesday night with a personal-best clearance of 5-7 to highlight a great first day at the meet. It was the second-best jump in school history to only Karen Lysaght, who won the state title in 1980 with a clearance of 6-0.
"It feels really good," said Palchak. "I had so much help from Coach Lynda (Shadman) and support from my teammates and the other coaches."
Palchak, who won the Delta League title last week at 5-3, did not miss an attempt until 5-5, hitting her first four jumps.
"I got lots of advice today and it really helped," said Palchak.
Palchak took three attempts at the meet record height of 5-8.
"I felt good about the jumps," said Palshak. I did not make it but overall I did really well today."
Lysaght is the only Troubie to ever win a section title in the event, winning in 1980 (5-9.625) and 1981 (5-6). The 5-7 clearance by Palchak is the best Division I winning mark since 2006.
"Isabella did very well today," said assistant coach Lynda Shadman. "I am very proud of her and everything she has done this season. It was really helpful that she started strong. We have been working on her timing and she did great putting it all together today."
Junior Isabella Grassel advanced to the consolation final in the 100 meters with a 12.60 (ninth-best in the field). She will also compete in the long jump with senior Isabella Rudis.
"I thought my start was a little off," said Grassel. "I want to work on that and focus on popping out hard. Some of the girls were out before me and forced me to catch up the whole race. It was nice to move on and have another chance to make the Masters."
Grassel joined freshmen Saniyiah Williams and Reyna Johnson and sophomore Chanel Grimes to reach the championship final with a season-best 48.89, placing seventh overall.
"We have been hard tome becoming a cohesive team and I think we finally got to that point," said Grassel. "We know how we run and have the handoffs down. We are coming together as a team at the perfect time."
Johnson advanced in the 100m hurdles with a sixth-place 15.18.
"It was not my best race," said Johnson. "I am excited to race those fast girls and try to beat them but I might lose to them."
Sophomore Haley Silva advanced to the finals in the 800 meters with a personal-best 2:17.29.
"I wanted to take the first lap conservative enough so I could go at the end," said Silva, who was second in her heat and fifth overall. "It was nice to go on for my team."
The 4×400-meter relay completed the meet by advancing to the championship final on Friday. They ran a season-best 4:06.27 with Chanel Grimes, Silva and Isabella Rudis joining senior Yahsmeene Duffey.
"I wanted to get out faster than the other girls," said Duffey. "If you get out fast, they don't try to go out with you. Hopefully we can all go under 60. That will be a goal."
"I knew they all could run that well but it was matter of them all coming together at the same time," said Head Coach Rod Jett. "They all ran great. It was what you have to do at this meet and time of the year. I am very happy with that."
Overall, St. Francis advanced three runners and both relays to go with the 1600, long jump and pole vault for Friday's finals.
"I am very happy and pleased how everything went," said Jett. "Everyone who should make it, did make it. Palchak winning was huge. Hopefully now that she knows she can do it and it will become a regular thing."
Chanel Grimes was 17th in both the 100 meters (12.87) and 2300 meters (26.73), while Johnson was 20th overall in the 100 meters (12.96). Rudis failed to advance in the triple jump with a best mark of 34-.5 to finish 14th.
St. Francis debuted their new Adidas uniforms Wednesday and they were a big hit.
"They are great. I love them," said Silva. "I feel so professional in them."
The long jump starts at 3 p.m. with the pole vault at 5 p.m. The running events will begin at 6 p.m.