St. Francis Catholic High School Launches Athletics Website GoTroubies.com on Oct. 1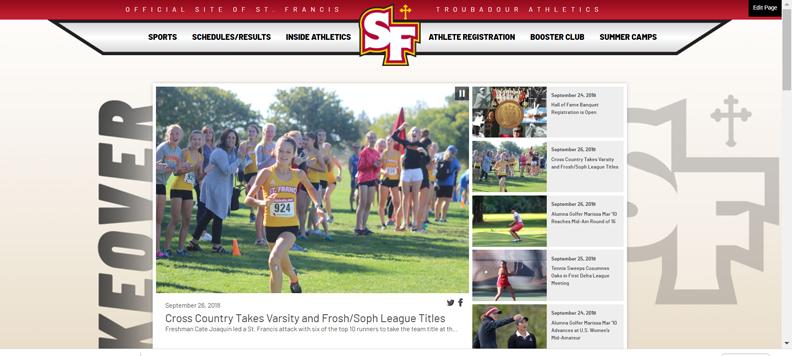 St. Francis Catholic High School Launches Athletics Website GoTroubies.com on Oct. 1
ST. FRANCIS, Calif. – St. Francis Catholic High School will launch a new dedicated athletics website to highlight the accomplishments of the Troubadour Athletics program and its student-athletes on Oct. 1.
"We're very excited to announce the launch of GoTroubies.com," said Athletic Director Mark McGreevy. "It's a wonderful tool for us to efficiently process and make accessible all of the great news and information produced by our extraordinary Troubies. We wanted a site that would match the high level of excellence of our sport programs and I believe we've achieved that."
The GoTroubies.com site features a responsive design for viewers on any format including desktop and mobile devices designed to assist fans, parents, student-athletes and alumnae in following all the St. Francis sports teams. The site includes coaching staff bios, as well as team rosters and schedule pages for all 27 St. Francis teams within the 12 sports programs.
Among the highlighted features on the new site:
Recaps from across the Troubadour sports landscape with photo galleries, statistics and video links
All-Access social media feeds from Facebook, Instagram, Twitter and YouTube
Upcoming schedule tab to help plan the week ahead in Troubie Sports
Scores tab to get a recap of the recent events
Easy access to MaxPreps statistics and boxscores
New Athlete-of-the-Week feature to highlight top performances throughout the year
Archived sports news preserving the recent history of St. Francis accomplishments dating back to 2013.
The GoTroubies.com site also provides links to our athlete registration process via FinalForms, Summer Sports Camp information, and the latest news from the Booster Club. The site highlights the Athletics Hall of Fame, Sports Ministry program, Troubies "At the Next Level", as well as the Student-Athlete Handbook, information regarding tryouts, and Troubie TV broadcast and schedule links.
The site was designed in partnership with PrestoSports, a leading provider of athletic content management software for high schools, colleges and collegiate conferences and leagues. Presto Sports has designed more than 2,000 websites since 2002.
St. Francis High School has won more Sac-Joaquin Section girls titles in school history than any section program and is the reigning Delta League Girls All-Sports program.
Updated athletics schedules will also be available on the school calendar on its main website (stfrancishs.org) and will continue its MaxPreps presence.
If you are interested in being a presenting sponsor of GoTroubies.com, contact AD Mark McGreevy at 917-757-5025 or mmcgreevy@stfrancishs.org.