Swimming and Diving Leads After First Day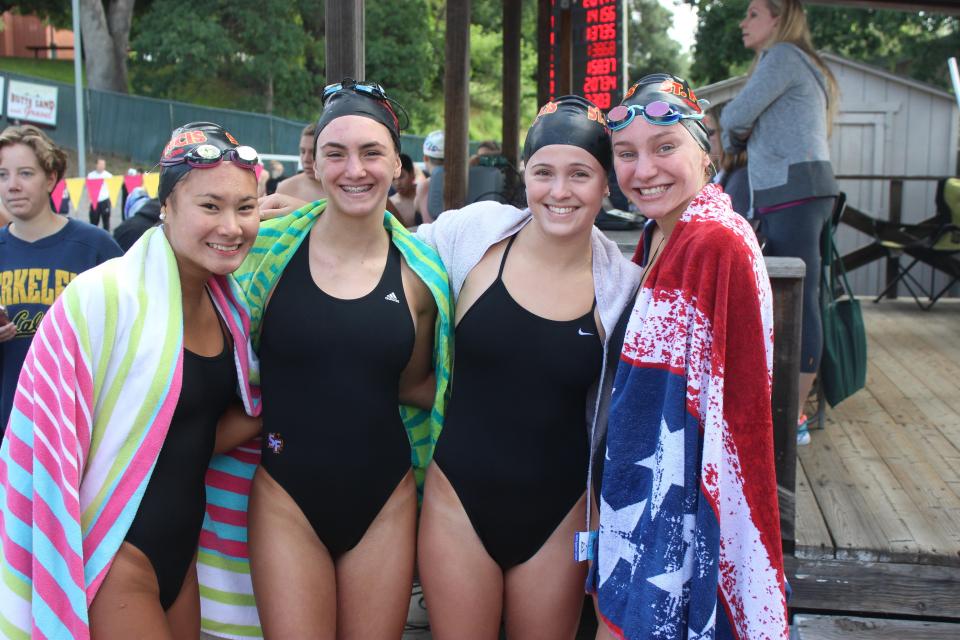 CARMICHAEL, Calif. – Behind a strong diving performance on Wednesday and three second-place relay finishes, the St. Francis swimming and diving leads after the first day of the Delta League championships. St. Francis leads 65.5 to 41.5 over Davis.
"We setup some second swims," said Head coach Richard Levin. "The more we can get in the big final, the better. The diving cushion was a big help today."
All three relays were contested on Thursday with the Troubies finishing second to Davis in each. The 200 individual medley relay opened with a time of 1:57.01 to finish second to the Blue Devils. The 200-yard free relay placed second in 1:46.31, while the 400 free relay closed the first day with a time of 3:53.45.
"Davis beat us solidly in all the relays, but we came in right behind them in all of them," said Levin.
Sophomore Hannah Purulan was the top qualifier in the 200 freestyle in 2:02.14, placing third overall. The Troubies also placed freshmen Emma Peters in fifth (2:02.14), Chloe Beebout (2:03.87) in sixth and Laura Freeworth (2:04.18) in seventh to advance four to the "A" final.
"I did my best and I am excited for finals tomorrow," said Peters. "I want to work on what my coaches tell me to do differently. I was surprised I did so well in the 200 free. I was really happy with that race."
Senior Tatum Roepke joined classmate Taylor Koewler in the 200 individual medley and the senior duo finished second and third, respectively. Roepke touched in 2:17.11 and Koewler was third in 2:18.83. Koewler was also fourth in the 100 butterfly in 1:01.70 just behind Roepke in third (1:01.41).
"It is my second to last meet at St. Francis so it is a little bittersweet," said Koewler. "I made finals which is good. I am looking for close to a best time in the fly (tomorrow)."
Junior Lennea Castro and Freeworth also advanced to the top final.
The Troubies will have three in the 100 free final as Aubrey Camarillo (57.48), Beebout (57.83) and Caroline Wilkins (58.07) all advanced. Freshman Kendall Houck was third in the 500 free (5:27.37) and second in the 200 backstroke (1:01.00). Peters was fourth in the 500 free (5:28.62).
Parulan joined freshman Jaclynn Burgess in qualifying for the 100 backstroke final.
"As a team we did really well and we have a lot of finalists tomorrow," said Parulan. "It was a really long meet but it was fun to hang out with all my classmates."
Junior Emily Bartylla was seventh in the 100 breast and joined freshman Emma Hollenbach in qualifying to Friday's big final.
Overall, St. Francis has 24 spots in the finals on Friday, looking to score the most points for the team. The freshman class accounts for half of the entries in the league finals. They are "the new generation of St. Francis swimmers" according to Koewler.
"We have had our squad helped tremendously by the freshman class," said Levin.
Parulan agrees with the assessment by her coach.
"They are definitely really fast and score a lot of points for our team,' said Parulan. "They are a really good benefit to this team."
Finals start at 3:15 p.m. on Friday.
"I am going to swim as hard I can since it is the last meet at Jesuit," said Koewler. "It is pretty sentimental that way. Hopefully I will get close to a best time."