Swimming Claims Frosh/Soph Section Title, Places Sixth in Varsity Meet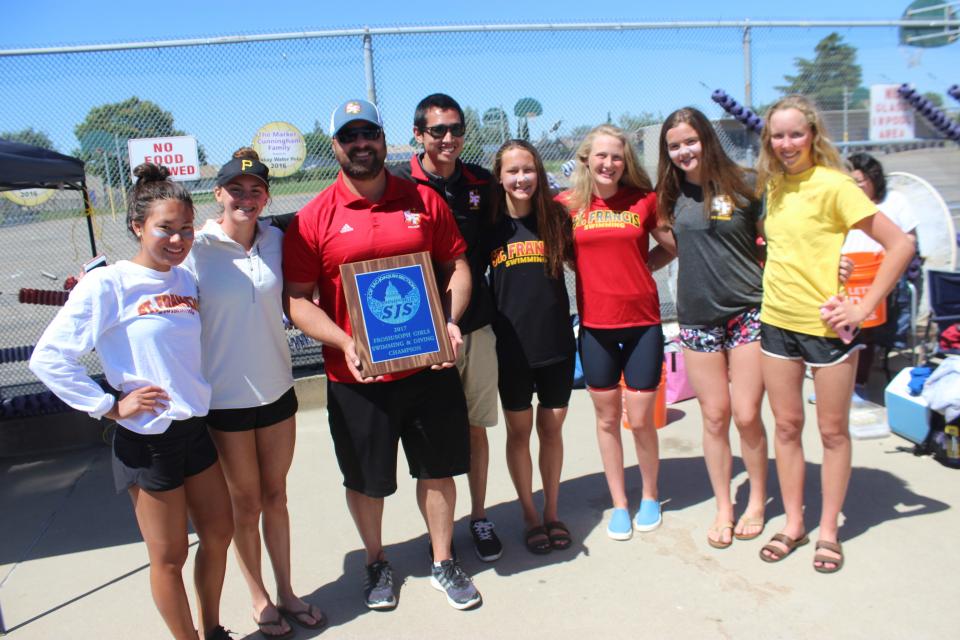 LODI, Calif. – The St. Francis swimming and diving teams finished the 2017 season in style by winning the Frosh/Soph division at the Sac-Joaquin Section Championships and placing sixth overall in the varsity meet.
"It is amazing winning the team championship as a freshman, swimming with all of my friends," said Chloe Beebout. "I am really excited. There are so many good freshman and sophomores when we get to our senior year on the varsity team, we are going to kill it."
St. Francis won two of the three relays in the Frosh/Soph division and freshman Emma Peters won 200-meter freestyle to claim the section title.
"Coming into today, we knew the lineup was pretty strong," said Head Coach Richard Levin. "We had pretty good swims in prelims on Thursday and they swam even faster. We had some huge drops. Across the board it was a great day."
The 200 individual medley relay opened the meet with a winning time of 1:51.60.
"It was awesome," said sophomore Hannah Parulan of the opening relay win. "We had a really good energy going in."
The team of freshmen Kendall Houck, Emma Hollenbach, Peters and sophomore Parulan set the stage for the big day.
"The win is huge, especially on the relay because it is double points," said Levin. "When you can come through and win a relay it puts your team in a pretty good spot. That is going to be our core group moving forward. The future is bright."
Peters then won the 200 freestyle in the first individual event of the meet, clocking a time of 1:56.27. Classmate Laura Freeworth was sixth in the event with a time of 1:59.95, while Beebout was seventh overall in 2:00.59.
"My 200 was really exciting," said Peters. "I dropped a second in the prelims and I dropped another second today. To come in first was so exciting."
Peters was also a finalist in the 500 freestyle, a grueling 20-lap race.
"Ouch,' said Peters of her 500 freestyle. "It hurt but I was thinking I have to push and help out my team."
Houck followed in seventh overall in 5:18.82, garnering more points for the Troubadours. She added a second-place finish in the 100 backstroke (59.94) with teammate Parulan in seventh in 1:01.50. Parulan was the top finisher in the 200 IM with a time of 2:13.59 with Emma Hollenbach touching seventh (2:19.17).
"It was a pretty solid 200 IM," said Parulan. "I dropped some time and got third overall. I am really happy with that. My backstroke was right on my best."
Freeworth was fifth in the 100 butterfly (1:00.58) and Beebout was seventh in the 100 freestyle (55.81), while Hollenbach recorded a second in the 100 breaststroke (1:08.78). The team finished off the win with a first-place in the 400-meter freestyle relay.
Levin also said goodbye to several seniors who swam in their final meet for the Troubadours.
"It is bitter sweet,' said Levin. "It is great to watch to watch them swim. Some of them have been a huge part of my coaching career since they were little. It is sad to see them done."
Taylor Roepke, who will swim for Cal State East Bay, had a personal-best in the 50 free (24.48) to place 14th and was 12th overall in the 100 fly (58.52).
"Overall this meet was not the best," said Roepke. "I got a personal-best in the 50 free in prelims and today. Overall, this season was amazing. It was last year swimming high school. I am excited. My goal was to get a best time and I achieved it. My swim career at St. Francis was one of the best experiences I have had, earning all the friendships and seeing everyone's achievements."
Taylor Koewler capped her career with a finals appearance in the 100 butterfly, touching the wall 14th with a time of 2:14.43 and was 15th in the 100 butterfly in 59.23.
"I feel good and I am happy," said Koewler. "It is bittersweet but I am glad I finished on a high note. It is sad but good. I am pretty happy with the results. I went a best time on Thursday in the fly. I am glad I could finish it with Tatum."
Koewler will attend the University of Notre Dame in the fall, studying global studies.
"I went faster than I did on Thursday in the IM and went close to a best time," said Koewler. "I am happy I never have to swim again. Swimming has brought a lot of great relationships with coaches and swimmers that have helped on and off the pool deck. I am very blessed to have those people in my life."
Juniors Emily Bartylla, Audrey Camarillo, Lennea Castro and Mckenna Schwarz contributed on the three varsity relays with senior Samantha Gates and Elizabeth Fugit. SF was sixth in the 200 IM, 13th in the 200 free relay and fifth in the 400 free relay.
"Elizabeth (Fugit) and Taylor (Koewler) are going into new chapters in their lives but are saying good bye to competitive swimming," said Levin. "The beauty of swimming is it is a life-long sport and you can do it forever. It is the gift that keeps giving."
Davis won the varsity title with 273 points to edge Granite Bay 273-268.5 followed by Rio Americano (261), Lodi (141) and Oak Ridge (124) ahead of St. Francis (105). St. Francis won the Frosh/Soph title with 301 points ahead of second-place Granite Bay (220).
St. Francis will be represented by junior Molly Wilson at the CIF State Swimming and Diving Championships on Friday.
Sac-Joaquin Section Varsity Results
200 IM Relay – 6. St. Francis (Fugit, Bartylla, Koewler, Roepke), 1:50.68; 200 IM – 14. Taylor Koewler, 2:14.43; 50 Free – 11. Tatum Roepke, 24.48. 100 Fly – 12. Tatum Roepke, 58.52; 15. Taylor Koewler, 59.23; 200 Free Relay - St. Francis 13. (Gates, Camarillo, Schwarz, Castro), 1:44.55; 400 Free Relay – 5. St. Francis (Roepke, Koewler, Fugit, Gates), 3:41.12.
Sac-Joaquin Section Frosh/Soph Results
200 IM Relay – 1. St. Francis (Houck, Hollenbach, Parulan, Peters), 1:51.60; 200 Free – 1. Emma Peters, 1:56.27, 6. Laura Freeworth, 1:59.95, 7. Chloe Beebout, 2:00.29; 200 IM – 3. Hannah Parulan, 2:13.59, 7. Emma Hollenbach, 2:19.17; 50 Free – 11. Caroline Wilkins, 25.63; 100 Fly – 5. Laura Freeworth, 1:00.58; 100 Free – 7. Chloe Beebout, 55.81; 500 Free – 3. Emma Peters, 5:14.33; 7. Kendall Houck, 5:18.82; 200 Free Relay – 4. St. Francis (Hollenbach, Freeworth, Beebout, Wilkins), 1:43.72; 100 Back – 2. Houck, 59.54, 7. Hannah Parulan, 1:01.50; 100 Breast – 2. Emma Hollenbach, 1:08.78; 400 Free Relay – 1. St. Francis (Peters, Houck, Parulan, Beebout), 3:40.66.