Swimming defeats Pleasant Grove in Delta Dual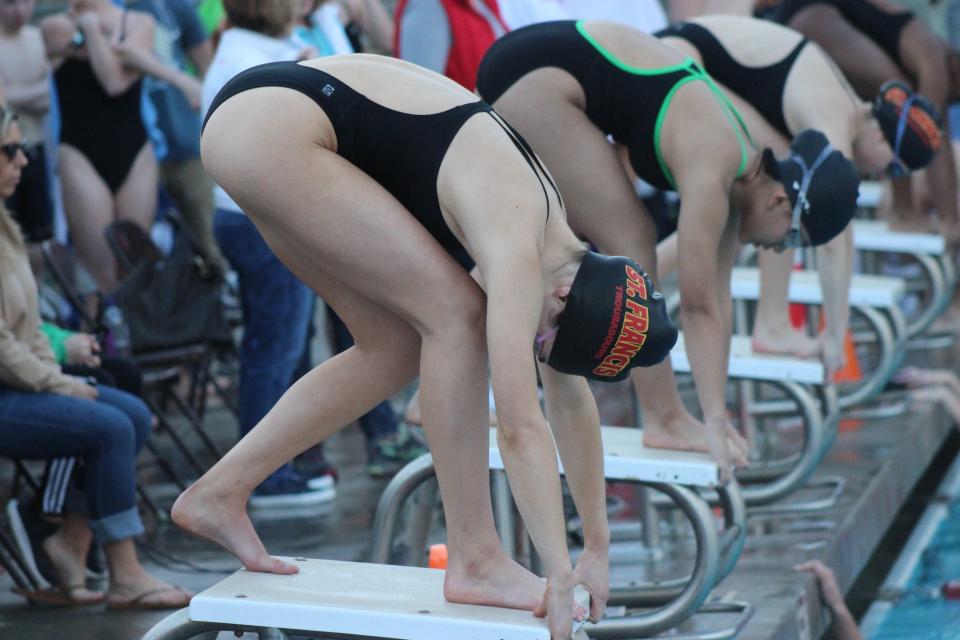 CARMICHAEL, Calif. – St. Francis won nine of 11 events to post a 127-43 victory over Pleasant Grove on Wednesday to improve to 2-0 on the Delta League dual season.
Senior Elizabeth Fugit won the 100 backstroke and helped the 200 medley and 400 free relays post victories. Emma Peters won the 200-yard freestyle in 2:02.54, while senior Taylor Koewler won the 200 IM in 2:15.62. Senior Tatum Roepke won the 100 butterfly in 59.67 and freshman Kendall Houck captured the 500 free in 5:25.70.Freshman Emma Hollenback won the 100 breaststroke in 1:10.77.
St. Francis takes on Davis at the Arroyo Pool on Wednesday, March15.
St. Francis 127, Pleasant Grove 43
Varsity Event Winners: 200 Medley Relay (Fugit, Bartylla, Koewler, Roepke), 1:56.36; 200 Yard Free, Emma Peters, 2:02.54; 200 IM, Taylor Koewler, 2:15.62; 100 Fly, Tatum Roepke, 59.67; 500 Free, Kendall Houck, 5:25.70; 200 Free Relay (Camarillo, Roepke, Gates, Rodriguez), 1:46.04; 100 Back, Elizabeth Fugit, 1:02.42; 100 Breast, Emma Hollenbach, 1:10.77; 400 Free Relay (Fugit, Koewler, Bartylla, Parulan), 3:52.78.