Swimming Finishes Second at Delta League Champs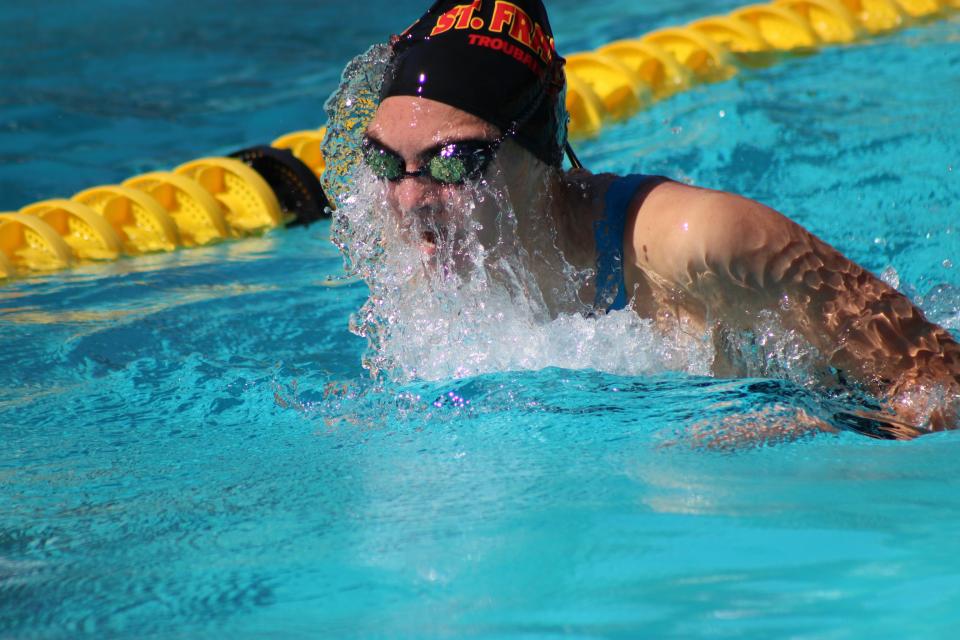 CARMICHAEL, Calif. – The St. Francis swimming and diving team finished second overall behind four second and three third-place finishes on the final day of the Delta League Championships at Jesuit High School.
St. Francis was in a battle with Davis all meet. After entering with a lead thanks to the sweep by diving and the Delta League title by Molly Wilson, the Troubadours led after the first day that featured three relay finals and challenged all meet against the Blue Devils, who finally out-scored the St. Francis 506.5 to 477.5.
Freshman Emma Peters started off the meet with a second-place in the 200 freestyle in 1:59.58 with four Troubies overall in the top six. Freshman Laura Freeworth was fourth in 2:00.49 and sophomore Hannah Parulan was fifth in 2:00.95; Freshman Chloe Beebout touched the wall in sixth in 2:02.32.
"I was really happy with my 200 free and I was only three seconds off my best time and I came in second which was really exciting," said Peters. "I am excited to go to sections with that race. It is really cool."
Peters returned to swim the difficult 500 free, placing third overall (5:18.38) behind teammates Kendall Houck, who was second overall in 5:17.33. Sophomore Malia Arnott was seventh in 6:07.54 and senior Fiona Dodson in eighth 6:07.68.
Houck made a case for swimmer of the meet for St. Francis by adding a second-place in the 100 backstroke in 1:00.28. Parulan was fourth in 1:03.27 and Arnott was ninth in 1:09.55.
Senior Tatum Roepke, who signed with Cal State East Bay, continued posting strong performances. She placed second in the 200 yard individual medley in 2:12.25, improving almost five seconds over her preliminary time.
"It was really difficult but I did it," said Roepke. "I improved by five seconds to swim by best time. I felt good in the fly and back and then the breast came. It is cool racing against your teammates because you get to challenge each other and we had a lot of Troubies cheering for us at the end of the lanes."
Senior Taylor Koewler was seventh 2:18.95 with freshman Emma Hollenbach (2:21.50) and junior Emily Bartylla (2:18.57) finishing eighth and ninth, respectively.
Roepke was also third in the 100 butterfly in 58.47 with Koewler in fourth in 1:00.82.
"I thought it went pretty well coming out unrested," said Koewler. "I went close to a best time unrested so it is just a matter of coming down and tapering and seeing what I can do at sections. It is always fun racing Tatum and the Davis girls."
Freshman Laura Freeworth was sixth in 1:03.12 and junior Lennea Castro was 12th in 1:03.71 in the 100 fly.
In the freestyle events, Beebout was the top finisher in fifth in the 100 free in 56.32. Freshman Caroline Wilkins was seventh in both the 50 and 100, posting times of 26.33 and 57.27. Junior Aubrey Camarillo was the top finisher in the 50 free in 26.25 to place fifth and was eighth in the 100 free in 58.90.
Senior Samantha Gates finished her career with eighth- and ninth-place finishes in the freestyle events for SF. She clocked a time 26.35 in the 50 and 57.55. Junior Makenna Schwarz was ninth in the 50 free (27.15).
"I beat both my times and posted my best times all season," said Gates. "It was a good note to end on. It was a lot of fun with friendly rivals and they are all close races."
While several members of the team with continue with berths in the Sac-Joaquin Section meet, Gates was among those who made their final swims this week at the league meet.
"It is sad but it is also exciting," said Gates, who will attend UC Santa Barbara. "It is sad because it has been a really fun four years. I am so close with all my teammates and it is like second family. I am happy because everyone is doing so well."
Freshman Emma Hollenbach closed out the meet with a third-place finish in 1:10.00. Junior Emily Bartylla was sixth in 1:11.85, while teammates Makenna Schwarz finished eighth and freshman Jaclynn Burgess was ninth in 1:13.54.
Sections will start on Thursday, May 11 at Tokay High School.
"I am really looking forward to having fun with it and enjoying my coaches who have been with me since I was nine years old," said Koewler.
2017 Delta League Championships
200 Yard Free – 2. Emma Peters, 1:59.58; 4. Laura Freeworth, 2:00.49; 5. Hannah Parulan, 2:00.95; 6. Chloe Beebout, 2:02.32. 200 Yard IM – 2. Tatum Roepke, 2:12.25; 7. Taylor Koewler, 2:18.95; 8. Emma Hollenbach, 2:21.50; 9. Emily Bartylla, 2:18.57. 50 Yard Free – 6. Audrey Camarillo, 26.25; 7. Caroline Wilkins, 26.33; 8. Samantha Gates, 26.35; 11. Makenna Schwarz, 27.15; 100 Yard Fly – 3. Tatum Roepke, 58.47; 4. Taylor Koewler, 1:00.82; 6. Laura Freeworth, 1:03.12; 7. Lennea Castro, 1:03.71; 100 Yard Free – 5. Chloe Beebout, 56.32; 7. Caroline Wilkins, 57.27; 8. Audrey Camarillo, 58.80; 9. Samantha Gates, 57.55. 500 Yard Free – 2. Kendall Houck, 5:17.33; 3. Emma Peters, 5:18.38; 7. Malia Arnott, 6:07.54; 8. Fiona Dodson, 6:07.68. 100 Yard Back – 2. Kendall Houck, 1:00.28; 4. Hannah Parulan, 1:03.27; 9. Rylee Arnott, 1:08.55; 100 Yard Breast – 3. Emma Hollenbach, 1:10.00; 6. Emily Bartylla, 1:11.85; 8. Makenna Schwarz; 9. Jaclynn Burgess, 1:13.54.